London Braver Conference and Dinner 2018
Date Of Event:
Wednesday, November 14, 2018 - 08:30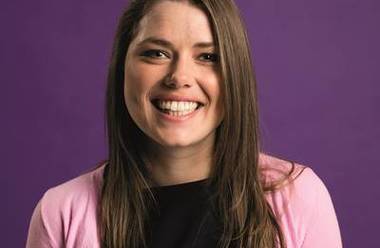 THE CONFERENCE
Our flagship 2018 Braver Conference will get under the skin of what being braver really means both in work and in life.
We'll hear about the brave passions and even braver ambitions of our inspiring speakers which include challengers (Sophi Tranchell), performers (Marcus John Henry Brown), activists (Dr Caroline Casey), visionaries (Jaz Ampaw-Farr), transformers (Martin Glenn) and more.
Join us for a fresh perspective, discover new ideas and connect with 400 other people just like you.
OUR SPEAKERS
Yalda Hakim (our host)
Journalist and host of BBC World News
Yalda is a hard-hitting journalist for BBC World News and BBC News. Her interviews, including ones with the President of Afghanistan and the Indonesian Premier, have led to headlines across the globe. Yalda will be our 2018 conference host.
Biography
Tor Garnett
Co-founder of Police Now
Tor joined the Met in 2008. In 2012 she created a forum for junior-ranking officers to improve the force from within. From this she founded Police Now. Tor will explore how to conquer organisational obstacles and how to make a 'brave' team 'braver'.
Biography
Eric Murangwa MBE
Founder, Football for Hope, Peace and Unity
Hear the dramatic and heart-rending story of how Eric's sporting talent not only saved his life, but also shaped an organisation that used football to heal the wounds of war.
Biography
Dr Caroline Casey
Activist and management consultant
When do you feel braver? When you have something, or nothing to lose? Caroline's story proves you should never feel defined by your successes or your failures.
Biography
Sophi Tranchell MBE
CEO, Divine Chocolate
How do you create a completely new business model to compete with Cadbury and Nestle? Hear how Sophi built her social enterprise that delivers on both taste and profit.
Biography
Marcus John Henry Brown
Founder of the Office for Creative Intelligence
Are we prepared for the world we are currently shaping? Marcus will show us a visualisation of a different, challenging, potentially braver society. Is it dystopia or utopia?
Biography
Jonah Sachs
Entrepreneur and author
Jonah will explore why we should be designing organisations where it feels as comfortable to look to collaborate with people that disagree with you as much as trusted colleagues.
Biography
Cecilia Weckstrom
Senior director, LEGO
How do you create the builders of tomorrow? How do you take the global legend that is LEGO – one built on creativity and inspiring minds – and make it fully sustainable by 2030.
Biography
Steve Langan
CEO, Hiscox USA
Is it easier for a risk-based business to be braver than others? Steve will explain how he creates a brave culture in Hiscox and share what happens when courage fails you and what you can learn.
Biography
Thomas Barta
Author and leadership expert
Exactly how brave are we? Thomas will present the first benchmark of a global study into exactly how 'brave' Marketing Society members are.
Biography
Jaz Ampaw-Farr
Resilience ninja
Literacy was Jaz's ticket out of childhood neglect, poverty and abuse. Since then she's inspired teachers to go the extra mile and adopt a resilient mindset in their own lives.
Biography
Martin Glenn
CEO, The FA
How brave do you have to be to want to share the weight of the entire country's expectations? Martin will explore the triumphs and disappointments of not only his 2018 World Cup journey, but career to date. How brave do you have to be to win?
Biography
Human side of leadership
As well as our main speakers we'll also be hosting an 'elephant in the room' session, asking a line-up of senior marketers what keeps them awake at night? Speakers confirmed: Michelle McEttrick, Group Brand Director at Tesco, Pete Markey, Chief Marketing Officer at TSB Bank, Caroline Hudack, Airbnb and Paul Graham.
BOOKING THE CONFERENCE
Tickets are currently not available to purchase. We may release a final allocation closer to the conference date. If you are interested in purchasing one please register your interest.
---
THE DINNER
Following a day of learning we continue into the evening with our Annual Dinner, celebrating achievements of our industry and saying thank you, over good food and wine, to colleagues, clients and partners. The night will be hosted by Rachel Parris, an award-winning musical comedian, actor, improviser and presenter.
Rachel Parris (our host)
Comedian, actor, improviser and presenter
Rachel Parris is an award-winning musical comedian, actor, improviser and presenter - she is one of the breakout stars of the hit BBC2 series THE MASH REPORT.
Biography
Abandoman
Hip hop musical comedian
This year's entertainment is Ireland's finest hip hop musical comedian Abandoman, who uses his trademark blend of audience interaction and razor-sharp improvisation to entertain a crowd.
Biography
Some of last year's attendees
Aldermore, Aviva, B&Q, Clear Channel, CSM Sport & Entertainment, Direct Line Group, Eurostar, Gain Theory, GlaxoSmithKline, Havas Helia, Hiscox, InterContinental Hotels Group, ITV, John Lewis Partnership, Lidl, McDonald's Restaurants, MediaCom, Müller Dairy, O2 (Telefónica UK), SapientRazorfish, Shell, Smart Energy, Starbucks.
BOOKING THE DINNER
Tickets include a three-course meal, wine, entertainment and your chance to take part in a live vote for Brave Brand of the Year. See more on the Annual Dinner below - and book your dinner tickets and tables by contacting us directly.
---
BRAVER CONFERENCES - NEW YORK, DUBAI, HONG KONG
As part of the Conference this year, we're being brave and pushing boundaries by hosting our flagship conference in New York, Dubai and Hong Kong on the same day as London.
Four conferences, four countries, one day - inspiring our members to be braver around the globe.
In Dubai we'll hear from Egyptian Omar Nour, the fastest Arabic-speaking triathlete in the world, and health and fitness guru, Essa Al Ansari, hosted by BBC journalist Lucy Hockings.
In New York our speakers are: NHL's Kimberly B. Davis and L.L. Bean's CMO, Christopher McDonough, and Fereshteh Forough, founder of Code to Inspire, the first coding school for girls in Afghanistan. Hosted by our New York chair, Siegel+Gale's Margaret Molloy.
In Hong Kong our first speaker is humanitarian Dr Joyce Samoutou-Wong, known for her brilliant work across the globe, and her natural ability to make audiences both laugh and cry. More speakers to be announced soon.
Or call us to book on
020 8973 1360
Sign in to view prices and reservations details
Sign In
Welcome to the private portal for Marketing Society members.
Partners for this event