Jeremy Waite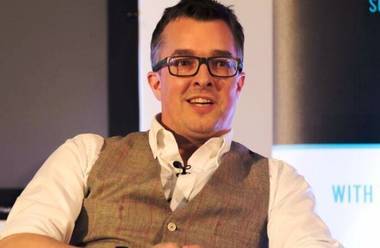 Global Leader of CMO Programs, IBM
Jeremy is the Global Leader of CMO Programs for IBM and an Evangelist for IBM Watson Customer Engagement.
'That basically means that I travel around the world talking to senior marketer about how the world's most successful companies are using cognitive technologies to make the world a better place. I also work with analysts and data scientists to create original research and insights around emerging customer facing technologies.'
He has recently published "Ten Words".
'It's a book about "140 characters" ~ different people from across many professions who all changed their lives and their industry with a ten words quote. All profits are going to charity to pay for two NICU incubators which saved the life of my twin girls.'
When he's not waxing lyrical about marketing technology, AI, dark data, or consumer trends at a conference somewhere, you can find him racing his bicycle or drinking whiskey somewhere nice. He also enjoys 'spending too much money' on rare business books, vintage typewriters and Jeffrey West shoes.
He has also owned his own agency and worked for brands such as Nike, MTV, Rovio, LVMH, Uber, KLM, BMW and Vodafone. He's have worked on strategic accounts with Facebook's largest ad agency and led marketing strategy teams at Adobe and Salesforce, as well as spending some time as a giraffe keeper!
• Voted the #1 Most Influential Person on Twitter for #BigData by Onalytica
• Top 30 Global Social Influencer on #AI in 2017
• Top 10 Most Influential Tech Professionals by B2B Magazine 2017
• Top 30 Most Influential Digital Marketer in the world 2016 by Onalytica
• The 3rd most Influential Social Media Marketer in the UK The Drum
• Top 100 Digital Marketer in the UK by British Interactive Media Association (BIMA)