The Mac Twins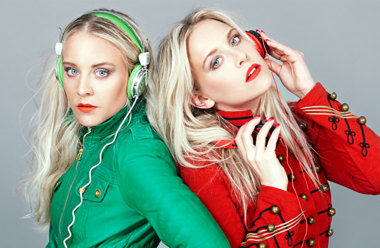 DJs and presenters
The Mac Twins are a DJ and presenting duo hailing from Edinburgh. Whether performing all over the world for Diet Coke, Armani, MAC Cosmetics, on tour with the UK's biggest music institution The Official Charts or opening festival stages across Europe, The Mac Twins' unique talent is their ability to connect with any audience – large or small – and keep it real.
As well as being the Official DJs for Love Island where they can be see playing live on ITV2 , the girls' are presenters on Virgin Radio and in the past year have had guests worlds biggest music artists co-hosting and as guest, plus live broadcasts everywhere from The Brits, to the Team GB camp - they are the "go to" presenters for fun, energetic content. In the past year they've broadcast live from all the Summer festivals, warmed up for Jess Glynne and Fleur East at Wembley Arena, headlined Festifeel and Fashion Undressed festival on the Southbank for Mastercard and performed bespoke intimate sets at the Groucho club, at LFW for Gok Wan's Magazine and for brands such as Urban Decay, Wacoal and @london to name just a few.
Even in the past few weeks they DJ'd at the UEFA Champions League Final party, at the British Grand Prix at Silverstone and played alongside Lulu and Pixie Lott for Simon Cowell's Annual Midsummer Ball. The girls were named 1 of 4 Scottish Cultural Innovators by Ted Baker and their first chat show Mac Yourself at Home was a complete sellout at the Edinburgh Fringe, where they had the Fringe's biggest stars like Russell Kane and Joel Dommett on the sofa for a natter. Recently the girls have filmed and recorded for Radio 4, Channel 4's Food Unwrapped and BBC Horizon, and can regularly be seen popping up on ITV Daytime and Channel 4.
For years, whilst gigging by night, they've been supporting science by day at the British Gut Project/Twin Research, King's College London, UK, they were so shocked and excited by what they found, they co-founded "The Gut Stuff" set up to raise awareness about Gut Health and bring the science to the people.
With partners such as JKR and Revolt London and a tonne of media interest, they sure are set to gut the word out. www.thegutstuff.com