Midget trees, a good 'BOSH' and Instagram
Sub Header:
How Joe Wicks went from bootcamp to millions in the bank, Sara Varela of Marina Bay Sands reviews our Inspirational Lunch

'An inspirational lunch at APS Lifestyle Gallery with The Body Coach on the power of social media. 18 months ago Joe Wicks was running boot camp sessions for a handful of people in his local park in South London. Now he runs a multi-million pound business, has the number two bestselling book on Amazon globally (and the book isn't out until January), and on social media he has over 450K Instagram, 130K Facebook and 60K Twitter followers, all without using any paid media.'

I checked him out. The Daily Mail (where else to get celeb news from?) reported that this man can make you lean in FIFTEEN minutes- infact they describe him as "Hunky nutritionist loved by Ellie Goulding". Hunky, nice. Joe goes by the alias The Body Coach and curated the 90 Day SSS plan with his #LeanIn15 meals. If you have not opened a UK tabloid, men's mag or watched a British morning chat show you may not have heard of him- yet, but that's about to change. Has 300 clients signing up a day and a four book deal. After the great inspiring Marketing Society Asia events with David Putnam, Martina Navratilova and DaVinci this was definitely up there.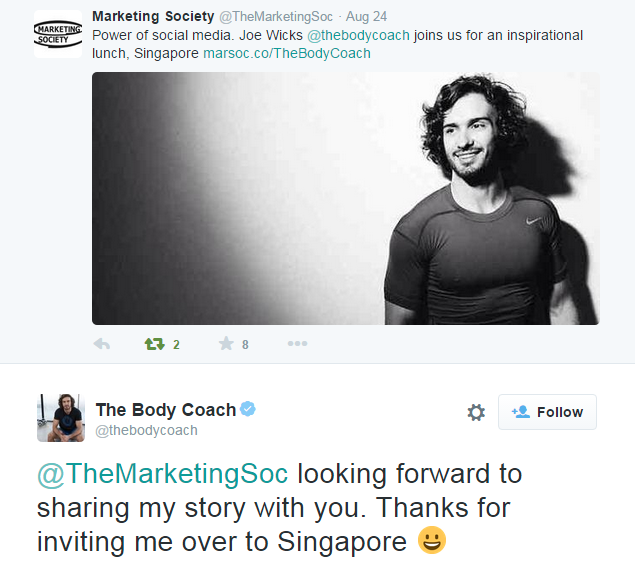 They call Joe the Jamie Oliver of wellness - I'd also say he's like the Russell Brand of fitness as he is a man on a personal mission to "deliver millions of people from the diet industry". The wellness industry is currently valued at $3.4Trillion reports the Daily Mail and Joe has skyrocketed to a whopping 460K Instagram followers in just a year- with zero marketing and he still handles his own entire social himself.
Well attended by members of The Marketing Society Asia (despite a long weekend, imminent polling, haze and the Spikes Media Festival), we enjoyed an intimate audience with Joe as The Body Coach shared his story and cooked up healthy treats. Joe shared candidly with us that he is on target to make £12M this year and is running at about 10% (£1.2M operating) costs- you don't have to be good at Maths to realise he's onto a winner! Joe has had hyper growth going from a one man band to a current support staff of 40 with a plan to scale up to 100 staff by end of year. He received a massive advance on a 4-book cookbook deal with a publisher and is already no.2 on Cookbook pre-orders on Amazon. As well as penning the next best seller Joe has also won sponsorship deals with Lucy Bee Coconut Oil, Björn Borg underwear (ladies- we got a *demo*) and Philips (for Juicers & blender equipment).
Yes Joe has taken those half a million Instagram followers and has done what most brands struggle with- he's turned them into 50,000 REAL PAYING CUSTOMERS. 10:1 conversion…from social (falls off chair). Joe sells a bespoke nutrition, exercise and wellness program (the 90 Day SSS plan is a curated info product delivered with personalization and real time mentoring service by one of his 40 coaches) at £147. So 50,000 x £147…those are numbers to get excited about.
Joe said in The Daily Mail: 'Instagram has allowed me to share my knowledge with thousands of people all over the world. By posting transformations, my business has grown so much that I now have 40 staff and 300 clients a day signing up. It also got me a four book deal (watch this space) – so in two years Instagram has pretty much changed my life. Thank you, Instagram!'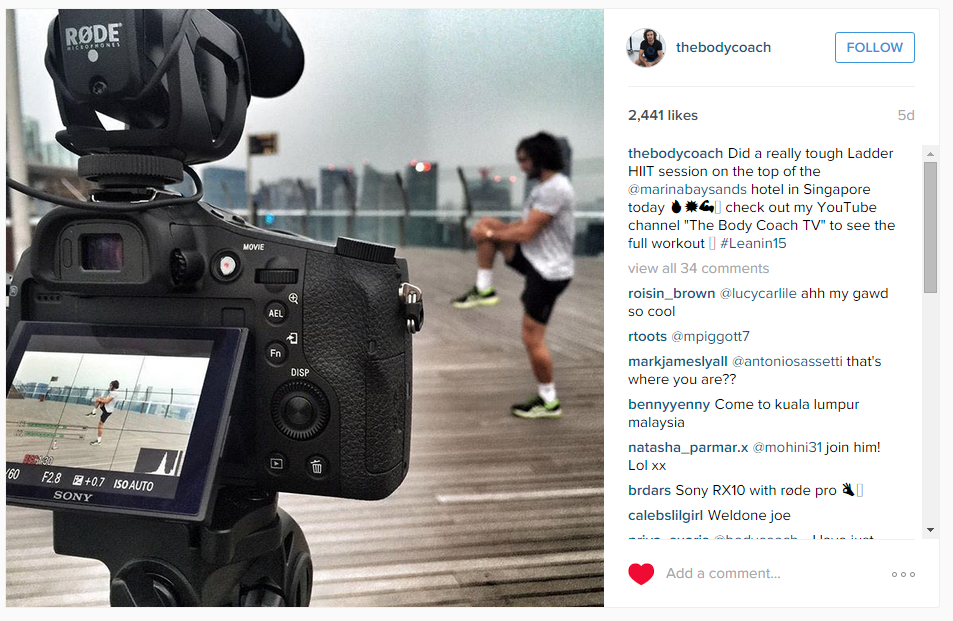 And he IS big on Instagram. Before coming to The Marketing Society Joe had not been resting on his laurels in Singapore. Despite haze and polling The Body Coach had filmed a HIIT workout on the MBS Skypark, educated fans at Sapient Nitro, rocked the night away at the Dentsu Spikes afterparty and held an impromptu outdoor bootcamp with a Yoga company. His 3 posts about MBS alone generated 16,000 Instalikes and his video filmed live at the lunch garnered 4,000 likes very quickly. From a 'big purpose' point of view those are the 50,000 beating hearts that Mr. Wicks - like an InstaWellness 'Messiah'-has delivered from the diet industry.
And like cheeky Mr. Oliver he's now on a political food mission - his next target to 'save' - the NHS in Great Britain"if they can give out Weight Watchers diet plans to all patients, why not mine, it's healthier". Joe's plan you see is not just another fad diet or boutique fitness workout (Barry's Bootcamp, Soul Cycle, Orange Therapy) instead it's "a way of life".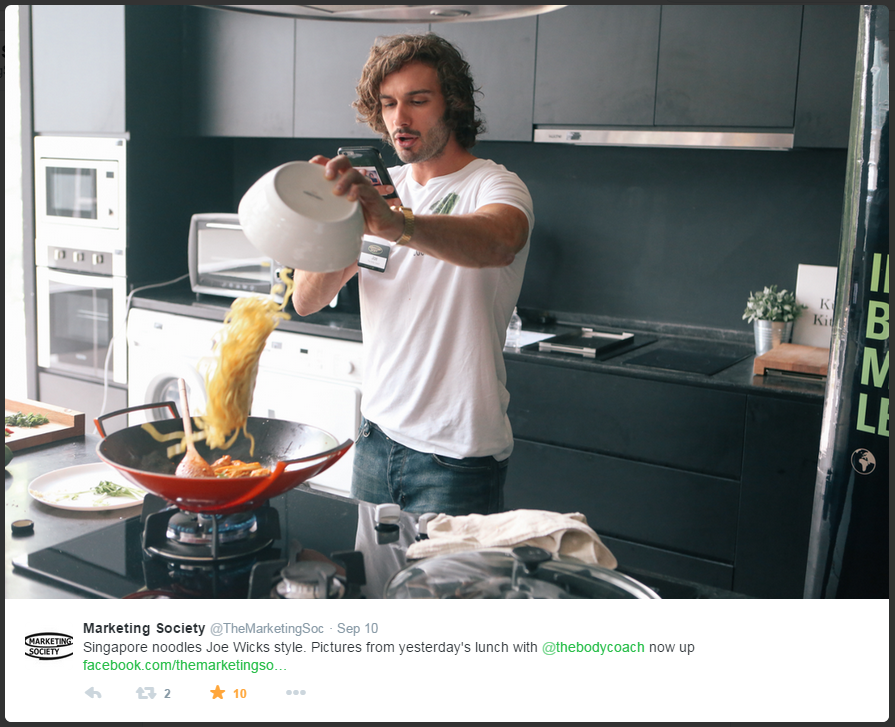 As marketing professionals we all wanted to know Joe's secrets and tips to the top, here's 5 takeaways:
FANS
Treat your fans like fans, not followers.
HEROES
Remember your fans are the real heroes of your brand- this shows up in Joe's UGB before & after client photos and the way the hashtag #LeanIn15 has travelled globally.
PERSISTENCE
It's not overnight. Yes it only took Joe 18 months from when Instagram launched video in Jan 2014 to climb to success - but there was a wilderness period one year before where as a green personal trainer and boocamp leader he struggled through 1000 instaphotos and 20,000 text tweets BEFORE HE MADE A SINGLE CENT.
VALUE
Give value. Joe gives away a lot of FREE value-added How - To tips content like recipes (15 second edited Instagram videos of live cooking a dish that can be made in 15 minutes) and video workouts (20 minute HIIT sessions on his YouTube page).
AUTHENTICITY
Joe may hype up his Body Coach character a bit on camera (gets himself enthused and throws in a "good bosh") but fundamentally I saw that what you see is what you get. Or as Joe puts it "If I'm in the pub, I'm the same".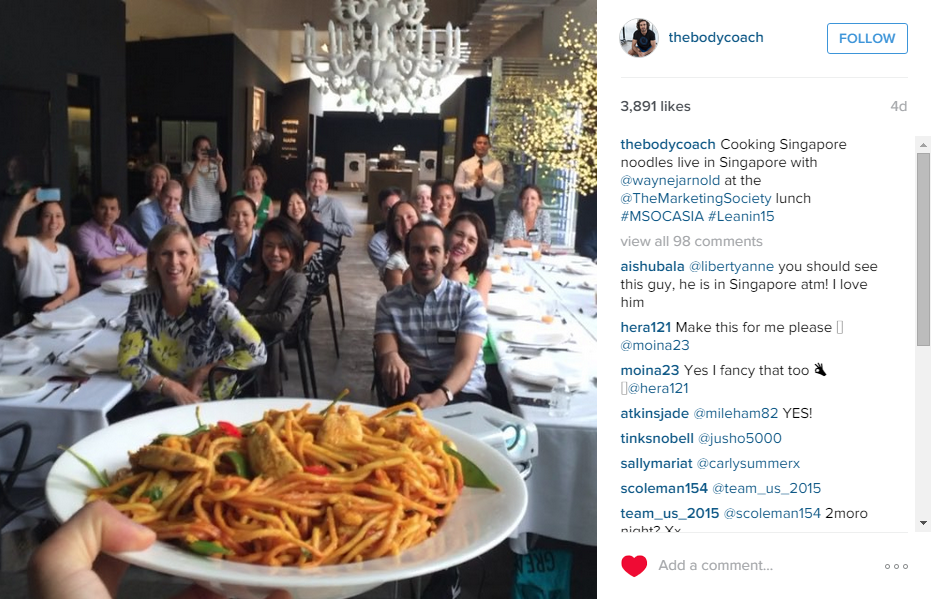 Fan him @thebodycoach. HIIT it hard if you want to take your brand to the same level of success! BOSH!