What does your business look like "post-Covid"? It's a recurring, inescapable question right now, and one that goes to the heart of any virtual boardroom.
I like the inherent optimism behind it; a confident reminder that we will get through this. For as much as the current situation is "unprecedented", we know the world has survived pandemics before, and recovered from plenty of recessions too. We will do it again.
But for now, the game has changed. We've all had to adapt. It's been six months since the pandemic was declared by the World Health Organization and we're all still in a state of flux. Business leaders of all stripes are eyeing transformational change, placing new bets on the future.
Which is why there has never been a more pressing time to have a vision to describe where your organisation is heading. For many, the direction of travel was already clear, but the crisis has accelerated plans with a new sense of urgency. Now is the time to have a long-term view upon which to draw, providing direction and inspiration among the uncertainty.
It's clear that embracing change while wrestling with existential challenges is something marketing leaders will need to get comfortable with going into 2021. The benefits for those who manage to pull it off are well articulated in a Harvard Business Review feature by consultancy firm Innosight's co-founder Mark W. Johnson and partner Josh Suskewicz:
"You may feel that you simply can't afford to carve out the time that it takes to set a vision and build a strategic path to it. But the leaders who manage the day-to-day and lead with vision will emerge from the crisis with companies that are stronger and more resilient than they were before."
Transforming while performing
 

Maersk - Transforming While Performing from Bloomberg Media Studios on Vimeo.

This theme of "Transforming While Performing" underpins our latest content partnership at Bloomberg Media with A.P. Moller-Maersk. Working closely with strategists at Havas International, we've explored how the ability to focus employees, shareholders and suppliers around a uniting vision helps legacy businesses to maintain relevancy.  
Since the autumn of 2016, Maersk's own strategy has moved away from being a conglomerate with diversified interests and multiple P&Ls to focus on becoming the global leader in container logistics, harnessing technology to deliver end-to-end solutions and the best customer experience.
During the pandemic it has kept global trade moving by enhancing its apps to provide better bookings and tracking services for customers using blockchain technology, and increasing lines of communications with all stakeholders.
"We live in times of continual change, and it's absolutely vital that companies continue to evolve," says Navneet Kapoor, Chief Technology and Information Officer at A.P. Moller–Maersk. "I think vision is very important, perhaps the most important, aspect of transformation. Right at the top of the company is where you need that clarity, because transformations aren't easy."
Other companies with strong visions featured in our series include: Unilever (to double in size at the same time as halving our environmental footprint); Bentley Motors (to have a fully electric vehicle by 2025 and be a fully electrified fleet by 2030); and Microsoft (to empower every person and every organisation on the planet to achieve more).
It's notable that even companies reeling from the impact of Covid, like luxury car marque Bentley, which made a quarter of its workforce redundant in June, remain focused on their vision.
"Transforming while performing is about keeping that business going and in parallel adding in the capabilities that will allow us to test before we invest, and then invest in new technologies," says Adrian Hallmark, CEO of Bentley Motors.  
"The ambition to have the first BEV (battery-electric vehicle) by 2025 does not change," the CEO reassured Automotive News this summer. "We still want to electrify as fast as we possibly can as soon as the technology is available."
How the most successful companies continue to transform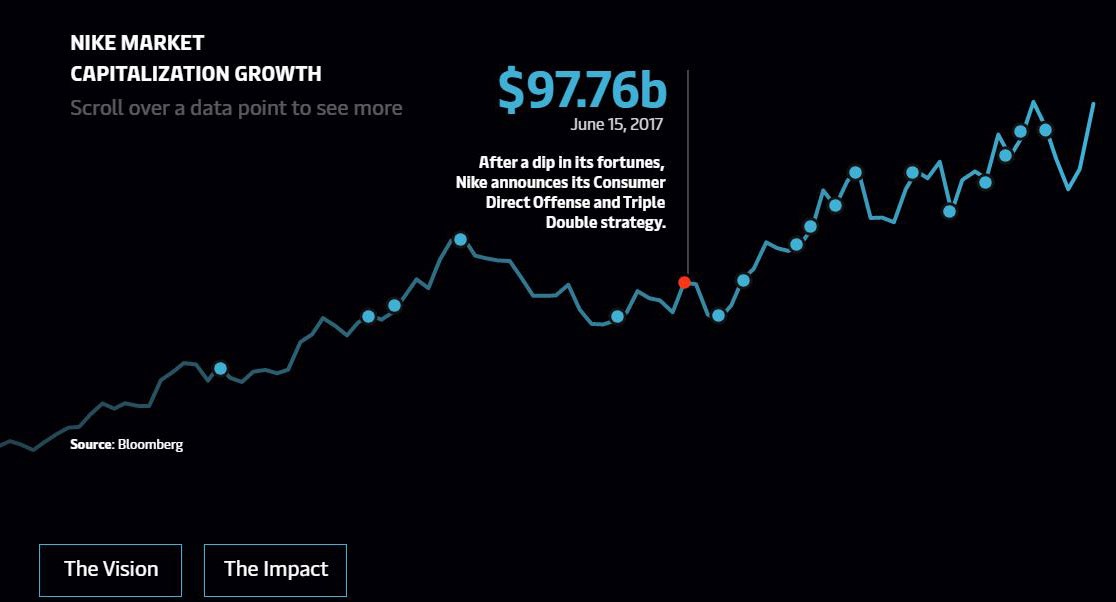 We've produced a series of case studies to highlight how some of the world's most successful companies regularly reinvent themselves at crucial junctures to maintain relevance. One explains Nike's decision to focus on innovation, speed and direct connections (Consumer Direct Offense) as part of its Triple Double strategy in 2017 helped develop the company's resilience.
The Triple Double strategy helped maintain investor confidence as online sales rocketed 79% in the quarter ended May 31, despite Nike posting a loss of $790 million for the period as retail sales disappeared.
"Triple Double makes complete sense and our growth drivers are spot on. And they were working, frankly, when we came into the pandemic, and the pandemic in many ways was a stress test for them, and it really proved that our current strategy is working," says John Donahoe, Nike's President and CEO. "So what we're talking about here is how do we take what might have taken us three to five years to make happen and make it happen in two?"
In order to survive and thrive in the months ahead, companies will need to examine their business models and be galvanised around an ambitious vision. The fortunes of many historic companies are being determined behind closed doors right now.
At Bloomberg Media we're increasingly providing strategic planning and integrated marketing services as part of our content partnerships. This is a time for transformational thinking and brave leadership; and it starts with a clear vision.
Enjoy this? Get more.
Our monthly newsletter, The Edit, curates the very best of our latest content including articles, podcasts, video.
Not a member yet?
Now it's time for you and your team to get involved. Get access to world-class events, exclusive publications, professional development, partner discounts and the chance to grow your network.