David Duke is the founder and CEO of Street Soccer Scotland, a non-profit social enterprise that uses football to help create positive change in the lives of socially disadvantaged adults and young people.

More recently David has set up Change Centre Scotland, a new social enterprise whose vision is aimed at tackling homelessness by a creating personal development and self management centres.

David has grown to be widely admired with his social entrepreneurship skills and inspirational personality, he has experienced first-hand the problems that face the people that his organisation works with and helps on a daily basis. This alone makes him one of the best placed people to inspire, deliver and advise on social inclusion programmes that use sport as a vehicle for change.

David works closely with Government, Athletes , Charities, Social Enterprise, and some of Scotland's leading entrepreneurs, all with the aim of improving the lives of those who face some of society's biggest challenges.

He is a well-known face, and voice, in his sector and is recognised as an authority on sport and social change. David is a regular contributor at the international Doha Goals Forum and has been a speaker at other global events including TEDx, Beyond Sport Global Summit and SEWF.

David is also Global Ambassador for the Homeless World Cup organisation, an Ambassador for Charity Quarriers, is an Advisory Board Member for UNICEF (Scotland).

Named as The Sunday Times 'Change Maker' of the Year in 2012 and a CNN Hero in 2016. David has also been recognised by both Glasgow Caledonian University and Edinburgh's Queen Margaret University which awarded him an Honorary Doctorate for his work in his field. David was awarded an MBE in the 2018 New Years Honours List.

David created and delivered the 2019 New Years resolution message for BBC1 Scotland. 
---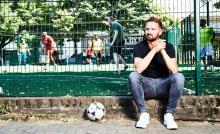 Our St Andrew's Day Dinner guest speaker is David Duke, founder and CEO of Street Soccer Scotland, a non-profit social