DéVon Christopher Johnson has leveraged his marketing knowledge and communications
expertise to build his brand from a single publication, Bleu Magazine, the aspirational lifestyle publication for multicultural men, to a full-scale multimedia company serving diverse audiences worldwide.
Johnson's, who holds a BA from Seton Hall University and a Master's from Harvard University, began his career in the music industry working in marketing and advertising roles for major record labels. His career began at Def Jam Records and moved on to Universal Music Group, Warner Music Group and Atlantic Records; collaborating on projects for artists like Jay-Z, LL Cool J, Mariah Carey, Trey Songz and Rihanna.
After seven years working in-house in entertainment, Johnson left to work on the magazine full time and develop a legacy in publishing. With the experience, skills and connections he gained in his former roles, he's crafting a media empire with a global reach and a mandate of inclusivity and diversity. He's an advocate for the importance of print media, especially in communities of color.
BleuLife Media Group's platforms now include Bleu Magazine, its sister digital platform,
Bombshellbybleu.com, Bleu TV, a podcast network, a geo-targeting mobile ad platform and an agency that represents digital influencers.
---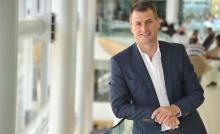 We return to New York for the third year, and our bravest conference yet