I have a small confession to make. 
Having gone through four chancellors, three prime ministers and two monarchs in the last three months I woke up on Wednesday 2nd November thinking we'd all had quite enough of change, thank you very much. 
So attending a conference called Changemakers: Ignite wasn't exactly what I thought I – or anyone else in the country - needed right now.
How wrong I was. The Marketing Society Global Conference seems to get better each year – 'all killer and no filler', as Sophie Devonshire, CEO of the Society, said in her opening address. She wasn't kidding. The talks were dizzying in the breadth of their subject matter and the quality of the content – all marshalled expertly by the impressive Mishal Husain from BBC News.
One of the OED words of 2022 is 'permacrisis' and it was hard to escape this through many of the topics being discussed – from AR to food banks, Ukraine to pandemics. The challenges facing the marketing community – and in fact, the world – can often seem overwhelming to the point of depression. But I left the QEII centre feeling that there's very little us humans cannot achieve if we have the twin weapons of inspiration and useability, purpose with a plan, or possibly simply the indominable nature of the human spirit when we embrace positive change.
The standout talk of the day, and one that will live long with anyone in the room to hear it, was from Olena Martynova – the CMO of Starlight Media in Ukraine. Many of us have faced adversity in our personal and professional lives but very few can have faced what the Ukranian people have in the last six months. Her talk on how the Ukranian media industry has reacted to the crisis they didn't invite was a lesson in perspective to us all. I also loved how she talked about marketing as well, and especially her plea for advertisers to return to Ukraine because "Ads are a symbol of normal life". A remarkable talk from a remarkable representative of a remarkable nation. Slava Ukrayini!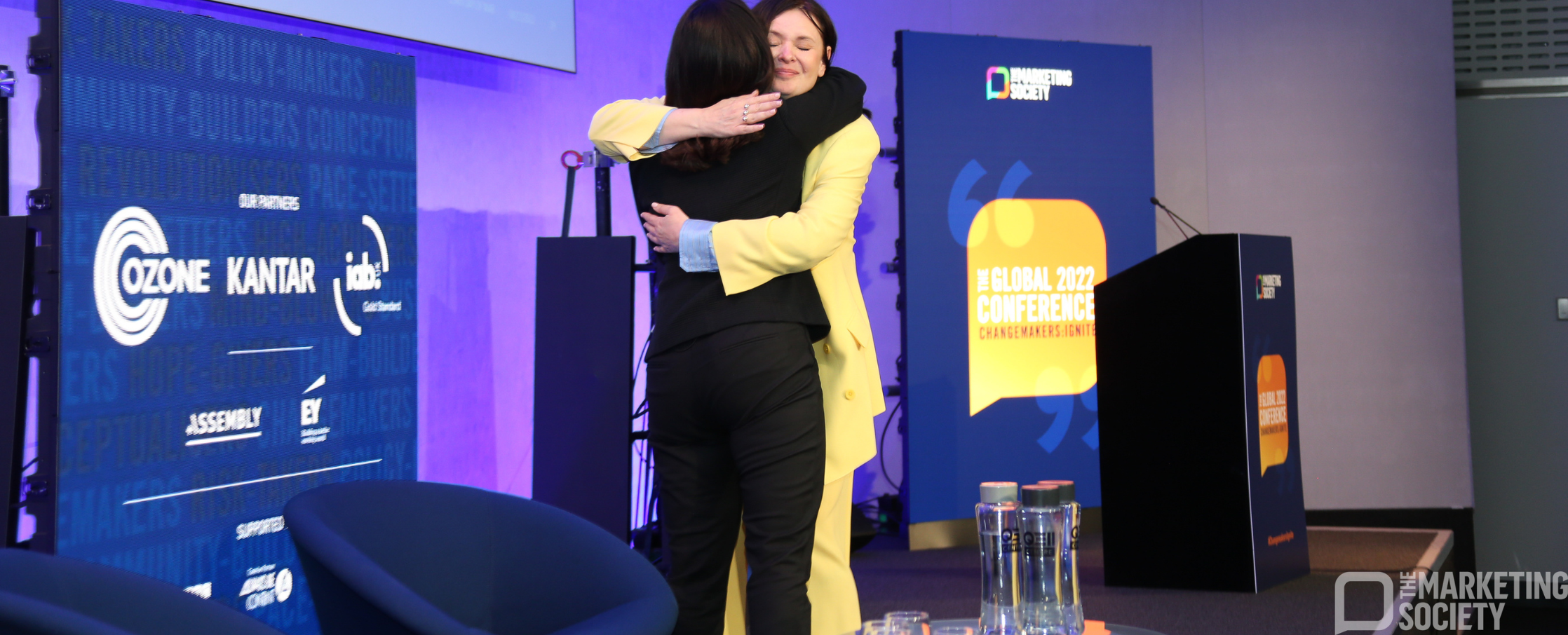 Baroness Oona King's words that achieving change – regardless of the subject – requires "courage and a plan" was my main takeaway from most of the talks. Inspiration and ideas are one thing, but you need simple actionable implementation plans to make anything a reality. As Napoleon used to say, "Amateurs talk strategy, professionals talk logistics". This was a theme that was returned to again and again – have an idea, have an inspiration, have a mission – but it's nothing if you don't know how to achieve it.
Whether it was Kay Cossington talking about the strategy to take the Lionesses from nowhere to Euro glory, Emma Revie talking about the challenges facing the Trussell Trust or Dr Usha Kim walking us through the remarkable achievements of the Aravind Eye Care clinics in India it seemed that this twin path to achievement was always the theme.
The day was a perfect mix of inspiration and information. The talks from Drew Povey and Renn Vara gave me lots of useful and actionable tips for engaging a team and an audience. There was also so much to learn from the remarkable talk from Conrad Bird of how the government created and communicated during the 23 months of the Covid-19 pandemic. Very few of us will ever be faced with a communications challenge of that magnitude – mind you, I bet none of us will ever be given that budget either! 
There was also, as a strategist, a great lesson to be learned from the clarity and simplicity of objectives in a lot of cases discussed; the pandemic comms ("will it save lives and livelihoods?") or the growth of unicorn Marshmallow (a simple problem to solve in the under-served nature of the migrant community when it comes to insurance). I was struck time and again of the focusing nature of a clear, singular goal. Too many times we get lost in multiple or competing objectives.
So, there we go. A great day and the conference quality bar gets raised every year. I left thinking that even after the mess left by Truss and the KamiKwazi mini-budget that maybe change isn't so bad after all. It's the only constant. And if it's positive change met with great optimism, inspirational leadership and a clear plan of action then maybe it'll all be OK after all.
Bravo to Sophie and the team. 
---
Discuss your thoughts with Members
Make new connections and share your thoughts on our Conference in our members-only virtual Coffeehouse on Guild. It's a safe space where you can meet fellow members across the world to chat, debate, share ideas and be inspired. Join here.
Enjoy this? Get more.
Our monthly newsletter, The Edit, curates the very best of our latest content including articles, podcasts, video.
Not a member yet?
Now it's time for you and your team to get involved. Get access to world-class events, exclusive publications, professional development, partner discounts and the chance to grow your network.