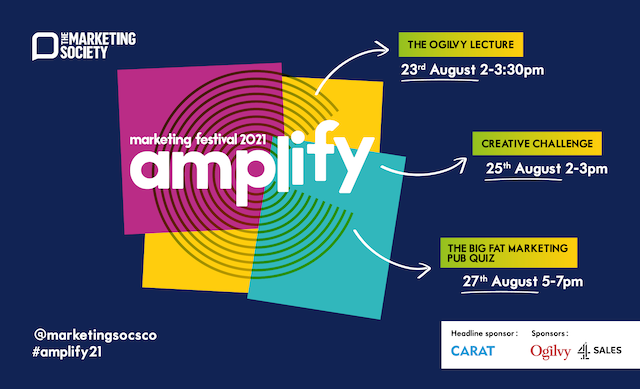 Over the past 10 years we have developed events during the Edinburgh Festival Amplify is the collective name for the series of events usually run throughout the day. Based on the success of last year's online format, we are upping our game this year with a whole week of events ready to engage and inspire. There will be a combination of virtual and physical events providing the benefits of accessibility with the opportunity of some much-desired social interaction.

We have some exciting new formats which will conclude with an end of festival drinks reception (all going well) on Friday 27 August.
The Ogilvy Gambit
We have a remarkable speaker lined up in Allan Scott for a live streamed event on Monday from 2pm on August 23.
Allan produced and co-wrote the recent Netflix hit – The Queen's Gambit and previously wrote Don't Look Now the atmospheric cult movie with Donald Sutherland and Julie Christie as well as the 1990 adaptation of Roald Dahl's story The Witches with Anjelica Houston and Rowan Atkinson. See his full bio here.
His family were major shareholders in The Macallan malt whisky and earlier in his career he was appointed Chairman. During his time there he was credited with the brand's advertising strategy which led to share value multiply by several hundred times during his tenure.
Turning 80 this year, suffice to say Allan has lived a very interesting and colourful life and remains extremely charming and affable - and a wonderful storyteller.
Allan will join a conversation with Rory Sutherland and Sophie Devonshire and there will be an opportunity to take part in a live question and answer session.
Clients vs Agencies Creative Challenge
Now in its 7th year, this hotly contested competition is always one of our most popular events of the year with the teams pitching award winning campaigns from across the world and encouraging our audience to vote for their ideas. With the current score 3-3, there's all to play for this year! The teams will be competing from 2pm - 3.30pm on Wednesday 25 August.

Chaired by our Vice Chair, Rod Gillies, the 2021 teams are;

Clients
Stuart Mackenzie - Tennent's (captain)
Kieran Healey-Ryder - Whyte & Mackay
Carol Prest - DC Thomson
Natalya Ratner – Robotical
Tina Walsberger - Edinburgh International Festival

Agencies
Morna McLelland – Stripe (captain)
Michael Courtney – Carat
Emma Lally – Studio Something
Barrington Reeves – Too Gallus
Neil Simpson – Weber Shandwick
The Big Fat Marketing Pub Quiz
We are very excited to introduce a new event this year designed to create involvement with teams competing from pubs across the country including our venue in Edinburgh where we will host a drinks reception following the quiz. The quiz will take place from 5pm on Friday 27 August.
This event has been developed as part of our Marketing on Tap initiative where we are encouraging our members to support the hospitality sector as it emerges from the pandemic restrictions.
Teams can be client, agency or a combination. All you need is a laptop, access to Zoom and a local pub you could compete from.
We are planning to have a Marketing Society Pub/Bar at Lulu in Edinburgh (our first physical event in over 16 months!) so if you would like to join us please indicate on the booking form.
The quiz entry money (£20 per team) will be donated directly to Hospitality Action who provide a wide range of support services to the industry, from physical illness or mental health issues to financial difficulty, family problems to addiction.
Fringe Events
Climate Change Conversation – August 24 (invite only)
Marina McIver from Scottish Enterprise and Adam Bell from Moment represent The Marketing Society Scotland Advisory Board Climate Change Cluster and will lead the conversation.
Future Leaders Debate – August 26 (invite only)
Working in partnership with DebateMate we will be hosting a debate masterclass with our Future Leaders where we will demonstrate the importance of debating skills in marketing and business. We will also be working with DebateMate in promoting debating with Student Marketing Societies in universities across Scotland.

These debating initiatives have been developed in memory of Kenny Harris and in the spirit of The Badger Debate.
Sponsors
We are pleased to have Carat back on board as our main Amplify Marketing Festival sponsor, Ogilvy UK as sponsor of The Ogilvy Lecture and Channel 4 Sales who join us this year to sponsor The Big Fat Marketing Pub Quiz. A big thanks also to long standing Amplify creative partner Guy & Co for all their support.
Tickets
Tickets are on sale now and prices are as follows:
 
The Ogilvy Gambit - £35 + VAT for members and £45 + VAT for non members
Creative Challenge - £15 + VAT for members and £25 + VAT for non members
The Big Fat Marketing Quiz – £20 per team of 4

Corporate Members who have tickets as part of their membership package don't need to do anything. Lux Events will be in touch with full details on updated allocations. Please contact us with any queries.

We hope you will join us for a week full of inspirational speakers, healthy competition and a lot of fun!