Harriet is an activist, working at the intersection of advertising, climate change and misinformation.
She co-founded The Conscious Advertising Network with Jake Dubbins of Media Bounty in 2018 and has since seen it gain international recognition, work with the UN, and grow to over 150 members from Virgin Media O2 to Accenture Interactive. She's also head of ACT Climate Labs, a Media Bounty powered project to supercharge the effectiveness of climate communications.
---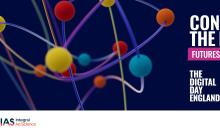 A day designed to inform, inspire and to overcome challenges that we all face in the digital marketing world.