Karen's leadership led MediaCom to be voted Agency of the Year by industry magazine Campaign, for an unprecedented two years in a row, in both 2013 and 2014, during Karen's tenure as CEO. In 2017, Karen was voted by Industry magazine Campaign, as The Leader Most Admired.
Karen has driven inclusion as a key contributor to business success in all organisations that Karen works with. In the 5 years that Karen was CEO of MediaCom, ethnic diversity transformed from 11% to 19%. Women in senior management roles increased to 44%.
As WPP U.K Country Manager, Karen is responsible for driving growth in WPP's second largest market of 11,000 people, through connecting operating companies to work together as integrated teams, ensuring product innovation and services development, developing and delivering the WPP Campus strategy, developing our WPP data and technology platform to deliver client competitive advantage and growth, attracting and retaining top class diverse talent. A deep understanding of customer insights is central to our U.K growth strategy.
Having taken on the GroupM UK CEO role in April 2020, Karen managed the business at a critical time during the COVID global pandemic and the subsequent impact of the killing of George Flloyd. Through careful mitigating and permanent actions that put people first whilst helping clients to navigate the pandemic, GroupM U.K weathered the economic storm and delivered a minimal net sales decline, and clearly outperformed our competitors.
---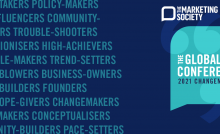 A day of inspirational speakers, conversations and connections #wearethechangemakers.