Leo is the founder of EdenLab, a new kind of consultancy and venture studio, they don't just advise on how to win in the Net Zero future, they build it with you. 
He helps make big companies more sustainable and sustainable companies bigger.
He does this by helping them find a capture Green Growth.  
Clients include Unilever, TUI, Intersnacks (KP) and Leo has advised VirginMedia O2, Nestlé, Kelloggs and many others on their sustainability strategies.
He's the former CEO and Chief Strategy Officer of ad agency Grey London, he was founder of a management consultancy within global ad and media group WPP, he's a lecturer at LSE on Creativity in Business, writer and start-up mentor to a number of firms particularly Climate Tech ventures. He's a domain expert adviser to Carbon13 the Cambridge-based venture builder for the climate emergency.
He believes businesses can help shape the planet for the better. To do that he says we need to invent - and reinvent - companies for a post-carbon world. He designs and assembles new business models, products and services that actively create a better future for all of us.
Leo is a true-blue heavy weight in the business world and now a green growth evangelist. He's also an engaging speaker with the capacity to really inspire. And Leo takes the sandals out of sustainability.
Things Leo has been talking about recently...
- How to make sustainability something that sparks imagination 
-  How green growth can spark the positive power of business
- Why understanding your 'clean share of market' is essential to customer risk management
- How, if you're not building your Clean market share now, your business is effectively a 'Zombie' (walking, but dead).
- EcoCapitalism and why we need it
Leo Rayman
07485 059310
---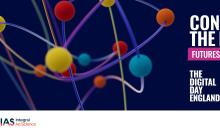 A day designed to inform, inspire and to overcome challenges that we all face in the digital marketing world.