Lianna Brinded is a director for Brand and Creative Marketing, focused on innovative ways for the brand and products to reach existing and new audiences. With a specialism in gaming, esports, and internet culture, Lianna works across all aspects of the company globally, including brand partnerships and leads on Yahoo's new creator partnerships program. Her role is to identify strategic opportunities to grow the brand in evolving areas and platforms, and build blueprints and innovative strategies to bring these to life that weaves in marketing, product, content, business development, and more.

With 20 years experience in the media industry, she has also previously worked in content, marketing, and business development across brands such as Quartz, Business Insider, NBC Universal, Dow Jones, and many others. She is also a former award-winning journalist and broadcaster, for a number of TV shows as well as podcasts and has led multiple companies in their growth strategy amongst younger audiences.
She is also a competitive gamer and streamer in FPS and battleground games, including Valorant, Overwatch 2, Apex Legends and Fortnite.
---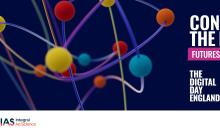 A day designed to inform, inspire and to overcome challenges that we all face in the digital marketing world.