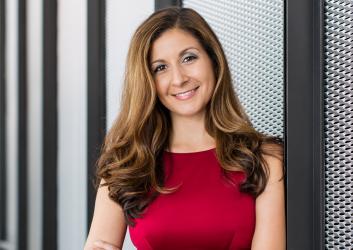 An accomplished executive marketer with over two decades of international experience, Michelle Froah, previous SVP Global Brand and Marketing for MetLife, is now Global Chief Marketing Officer at ETS.
Michelle leads a global team focused on end-to-end innovation and elevating ETS's position in the global learning and solution space. Reporting to the CEO, Michelle has responsibility for building ETS's marketing and innovation globally across enterprise functions, product innovation, business marketing and community engagement.
Michelle joined MetLife from Samsung Electronics America, where she led the digital transformation strategy to move the company from a product-centric to a consumer-centric lifecycle. Michelle was instrumental in Samsung's marketing and brand re-building efforts in the aftermath of the Note7 recall, helping to re-establish trust with consumers. She has had senior roles that built brands and innovation from end to end with Kimberly-Clark and Procter & Gamble. As Asia Pacific regional CMO for Kimberly-Clark, she was responsible for marketing capability and innovation across the region, following her role as Global Feminine Care Director where she helped build Kotex to a $1 billion global brand. Prior to this, she was a senior leader in P&G Beauty Care with roles across operations, sales and global brand management on brands like Pantene and COVERGIRL, where she led the end-to-end innovation and launch of LashBlast mascara which notably became the cosmetic launch of the decade. Michelle contributes to the industry as Ad Council Board of Director, Co-Chair of The Marketing Society New York Board, ANA CMO Growth Council, Brand Innovators Advisory Board and Chairman of Brandable Pte. Ltd, a marketing and branding consultancy based in Singapore. Michelle was one of Brand Innovators 'Top 100' Women in Brand Marketing in 2022, 2021 and 2017. She holds an MBA from the University of Iowa Tippie College of Business as well as a Bachelor of Science in Mechanical Engineering from Iowa State University.