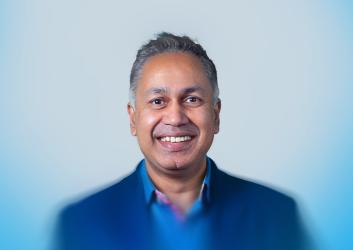 An effects-based strategic communications practitioner with 26 years of experience in influencing hearts and minds, Faheem has effectively worked across brands, and nations and for social impact causes across Australasia, the Middle East, the US, the UK, and Europe. 
As Group Chief Marketing and Communications Officer at G42 Faheem is responsible for building and delivering the Group's communication and brand strategies, alongside managing stakeholder communications across the Group and across all communications disciplines. Faheem also advises the group's operating companies, on all communications and brand-related matters and sits on the Group IP and Risk Committees.
Faheem has extensive global experience in business management and strategic communications. He has proven success in building new businesses, strategizing and executing brand transformations, and driving profitability and quantum growth.
Between founding two marcomm agencies, a decade with WPP, and globalizing a strategic communications agency for 21st Century Fox investment, Faheem has worked across a wide range of industries and global commercial brands including BAT, Cadbury's, Delsey, Dubai Shopping Festival, Malaysia Airlines, Pentax, Samsung, Sage, Tourism Malaysia, and Visa. 
Throughout his career Faheem has been at the forefront of cutting-edge media and strategic communications solutions marrying principles of marketing, advertising and behavioral sciences, big data synthesis, and public advocacy. Faheem has been a commentator on strategic communications, reputation management, and public diplomacy and has given several keynote presentations internationally including at Basel Peace Forum, Wilton Park, Lord Mayor of London, and the US Institute of Peace.
In 2014 Faheem joined 21 Century Fox' to develop its specialist communication business on advocacy and strategic communications challenges that included nation-building, countering violent extremism, counter-narcotics, women empowerment, irregular migration, women empowerment, and child health. Clients included UNICEF, UN Women, UNHCR, Bill and Melinda Gates Foundation, Sesame Street Workshop, USAID, DFID, EU, US State Department, UK FCO, Germany and Australian Border Security Forces. Faheem was part of the lead team in launching VICE Arabia in the Middle East, residing the operation in the UAE. 
An active member of The Marketing Society, and currently the Vice Chair and Board Member of its Abu Dhabi chapter, Faheem holds a BA in Economics from the University of Bombay and an MBA in Strategic Management from Swinburne University.