Raza Jafar is a Dubai based serial entrepreneur and philanthropist.
Mr. Jafar's business ventures include banking, insurance, aviation, real estate development, hospitality management, and now healthcare. His developments include Palazzo Versace in Dubai, Emirates Financial Towers and Dubai's D1 tower, as well as the management of The Capital Club in Dubai, Bahrain, Nairobi, and Lagos. His latest business, The Health Bank, is a global health management company that focuses in bridging the gap between patients and the health care industry.
He believes in the principles of triple bottom line which focuses on social responsibility, environmental sustainability, and economic growth.
He is currently on the board of like-minded organizations such as Synergos, Education for Employment, and the Kailash Satyarthi Children's Foundation (anti-child slavery).
In 2015 he founded the Global Sustainability Network (GSN) to drive progress in support of achieving Goal 8 of the United Nations' Sustainable Development Goals.
The GSN brings together over 1000 leaders from each respective sector; faith, government, business, media, and non-profits to work jointly to accelerate the achievement of Goal 8. The group meets quarterly, rotating between the Vatican, the UN HQ in New York, Lambeth Palace in London, and Dubai.
---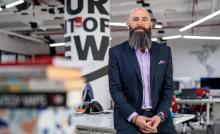 We are back in Dubai for a third year in a row for our bravest conference yet