With these words, Raha Moharrak, adventurer, mountaineer and the first Saudi woman to conquer Everest ended her 8 minutes (sharp on time) talk. It took her 8 minutes only to summarize a story of bravery, it took her 8 minutes only to inspire a captivated audience.
Raha was joined by 2 other speakers who are as inspiring and as brave as Raha. Nick Watson, founder of #TeamAngelWolf - formed by members of the Watson family – whose aim is to raise awareness of people (especially children) with disabilities and how they can be included in fitness activities. And Maria Conceicao, founder of Maria Cristina Foundation which core mission is to give slum-dwellers and their children in Dhaka, Bangladesh, equal opportunities to succeed in life by helping them get an education.
The inspiring trio were speaking at the leadership breakfast held at the Dubai Lynx Festival which is organized by The Marketing Society and sponsored by Serviceplan Group Middle East. They shared with us real-life stories of bravery and left us all mesmerized and inspired.
The session was about 'Overcoming Adversity' and it was moderated by Gemma Greaves, Chief Executive of The Marketing Society, who is an inspiring leader herself and who has championed the Society's mantra of "being brave" throughout her career. Being a "newbie" in the society as I've just joined in December 2017, I have heard a lot about Gemma from the other members and from Alasdair of course - yet it was my first time to meet her in person, which was a great pleasure.
Back to the speakers and their inspiring stories, starting with "the fierce" Raha
Raha's life changed the day she summited Kilimanjaro and challenged herself, her society, and culture.
What I appreciated the most about Raha is her unpretentiousness about how "accidentally" all of this has started. She heard about Kilimanjaro from a friend in university who was planning to go there over the Eid break.
Raha didn't even know what (forget where) Kilimanjaro is - she first thought it was a fruit.
Well, Kilimanjaro opened the doors to 8 more summits and her curiosity as to where her limits grew even more fierce.
Moharrak, who had been raised by her parents to aim for greatness, wanted to test her limits and that also meant challenging her culture. It wasn't easy to convince her father at the beginning, but knowing how hard headed and determined she was, she managed to convince him to go for it "that one time only". I am sure deep down he knew it won't be "that one time only" and since then, Moharrak's family has supported her every step of the way. On May 18th 2013, a year after seeing Everest in person for the first time, Raha made history by being the first Saudi woman to summit Everest, forever proving we could attempt the impossible and maybe even achieve it, no matter where we are from.
Nick and #TeamAngelWolf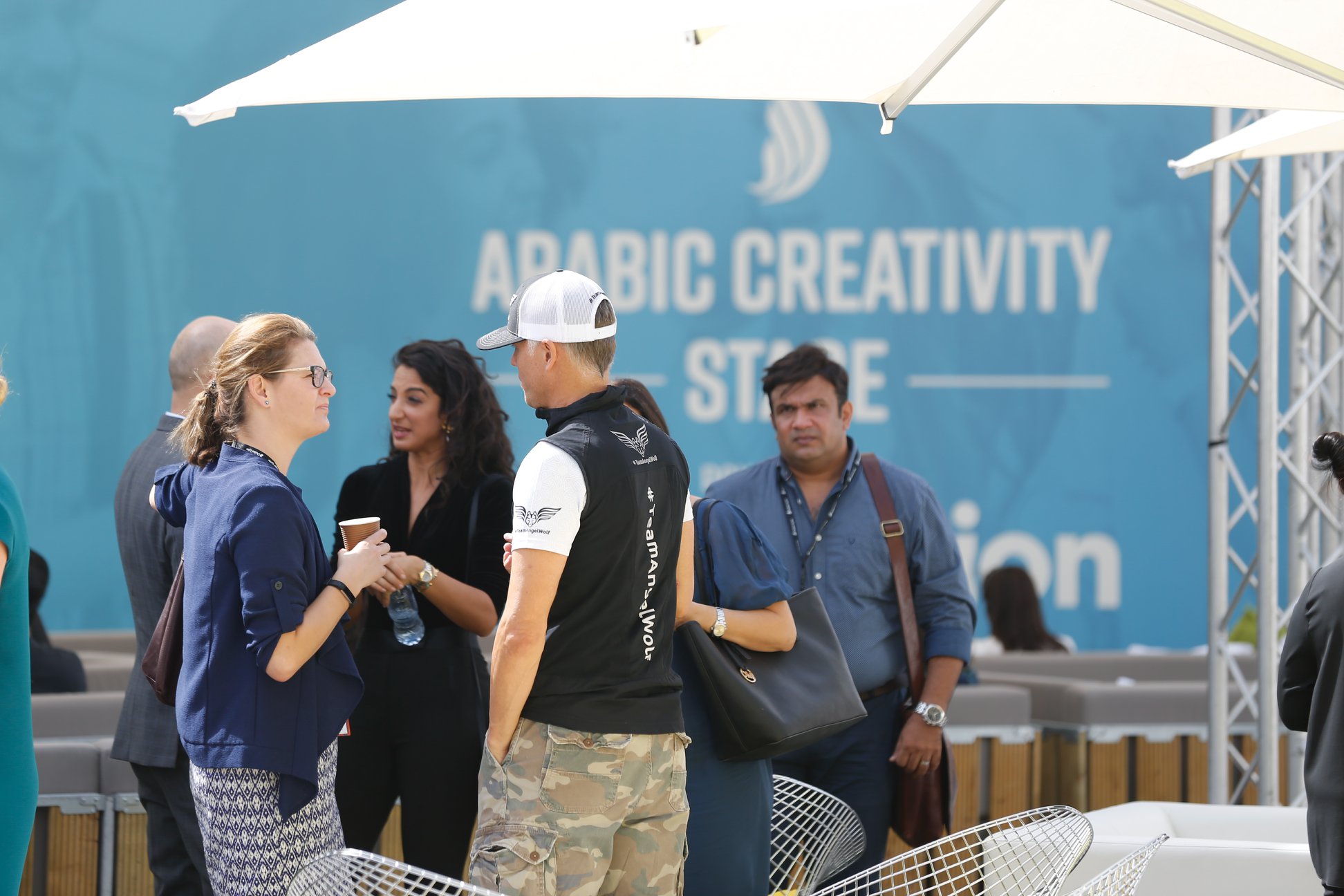 The second speaker was Nick, a former Royal Marine, ultra-marathon athlete and fitness expert who has moved to Dubai more than 20 years ago with his wife, AED 4,500 and a backpack – he said that figure hasn't changed much since then.
About 5 years after moving to Dubai, Rio, their first child was born and at 6 months, he had his first seizure. They rushed him to the hospital, and once he got better, the doctor sent them back home. The next day, it happened again. This kept happening and the worried parents kept looking for answers until the answer was found. Rio was diagnosed with a very rare chromosome disorder, 1q44 deletion syndrome, which affected his speech and motor skills and made simple movements a challenge.
And what would you do when your child has a very rare chromosome disorder? Well, Nick decided to give Rio a chance to experience triathlon thrills, pulling him as he swims, pushing him as he runs and cycling with Rio in front.
But this is not only a father-son story, as the rest of the family (Delphine, Rio's mom and Tia, Rio's 10-year-old sister) are also now taking it in turns to race with Rio. They are known by their racing name, #TeamAngelWolf, because Tia's nickname is Little Wolf, and Rio is Angel. During his speech, Nick told us about the different challenges the team went through during the races, especially at the beginning.
Nick and Rio's second race, Challenge Dubai, turned out to be more challenging than expected due to a severe sandstorm. Rio can express only a few words, but Nick knew his son would scream loudly if he wasn't happy. Halfway through, Nick was expecting Rio to start screaming. "Instead he looked at me and, in his little, broken voice and said: 'Dadda, I love you'. I was in tears, just in absolute bits. The next 30 kilometers was probably the easiest in my life." The session was taking place outdoors, and the sun was bright so having your sunglasses on played a dual role at that particular moment, you could feel the awe and flow of emotions…and the tearful eyes amongst the unlucky ones who didn't have their sunglasses.
Being a father myself, I was deeply touched by his story of strength, determination and bravery - and he's a brilliant storyteller.
The third speaker was Maria Da Conceicao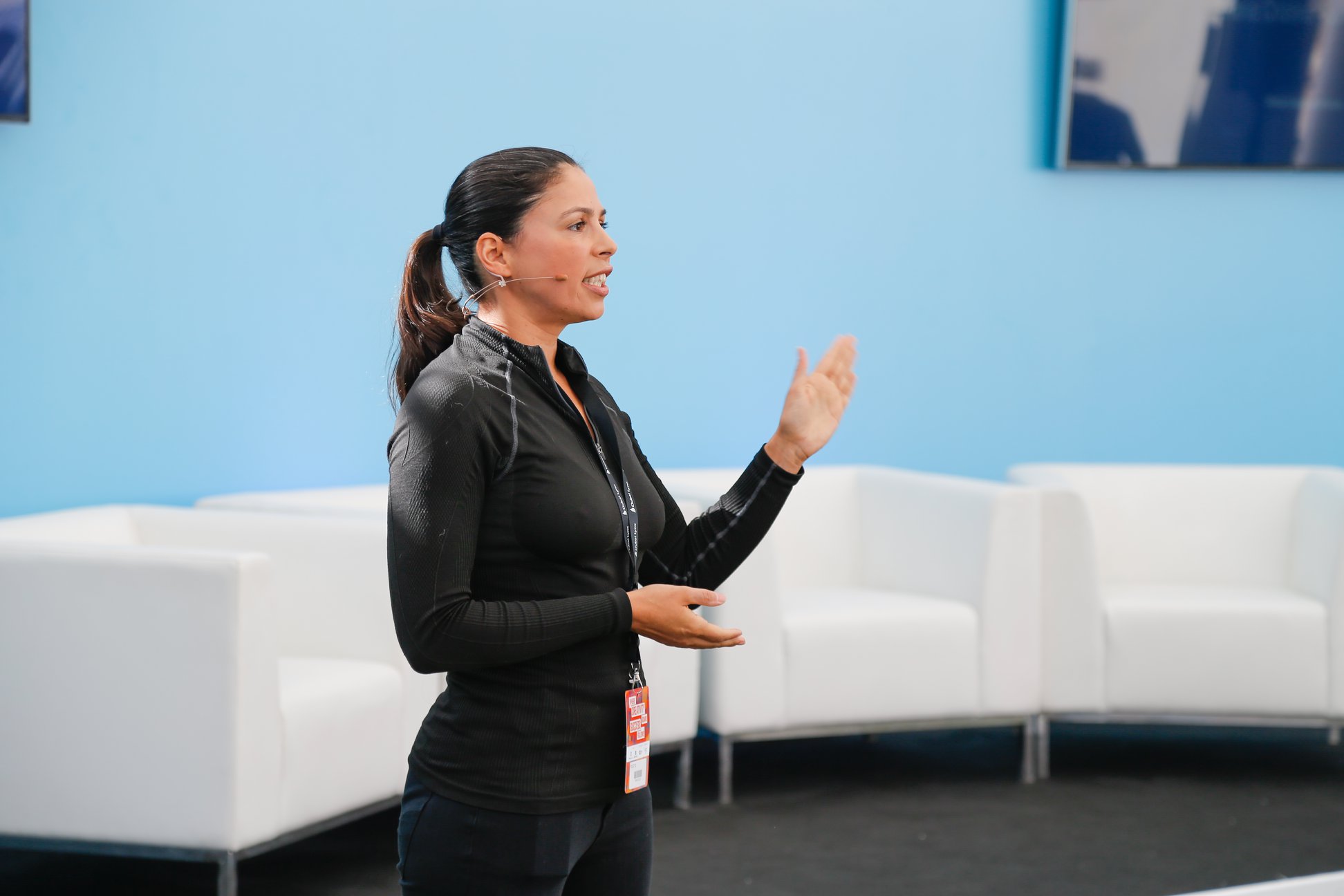 Maria's story of overcoming adversity starts from a young age.
She was born in Portugal to a mother who became sick when Maria was 2 years old. An African immigrant, Maria Cristina Matos, who worked as a cleaner, agreed to look after Maria until her mother got better, but she never did get better. Maria Cristina raised Maria as one of her own, despite already having 6 mouths to feed. 
So it was normal that she started her career as a cleaner….but hey, not any cleaner, she was "the Ronaldo of cleaning" as per her words. Then she was blessed to get a job with Emirates as a cabin crew which gave her the opportunity to explore the world. However, on one fateful flight to Bangladesh, Maria witnessed the extreme poverty in the slums of Bangladesh – a contrast to the life of luxury in Dubai.
Maria was not able to forget what she witnessed and one month later she returned to Bangladesh determined to help the impoverished community. 
She soon founded Maria Cristina Foundation and in operation for a few years has already provided education to over 600 children. However, it was always a struggle to fund the foundation. "In the early days there seemed to be an abundance of money in Dubai, but when the recession came, donations and funding disappeared almost overnight," Maria noted. Maria then had to take desperate measures to get attention, raise awareness and make public appeals for help.
In 2010 Maria summited Mount Kilimanjaro, but this didn't get enough attention. In 2011 she made a successful trek to the North Pole and walked a marathon on each of the 7 emirates in the UAE in 7 days. In 2013 she became the first Portuguese woman to summit Mount Everest and since then has ran 7 ultra-marathons on 7 continents in 6 weeks, 7 ultra-marathons in 7 days and 7 marathons on 7 continents in 11 days. She holds 6 Guinness World Records.
Three real-life stories, life-changing stories that the inspiring speakers shared with us
Despite the fact that both Raha and Maria did not have any athletic inclination before embarking on these challenges, they both decided to push their limits out of determination and perseverance. That was my personal key take-out - Never give up.
It was a job well done for The Marketing Society to give these 3 inspiring speakers the stage to address big brands and to touch on the critical role that these brands can play in supporting those who can defy limiting beliefs and create positive exchange around them.
In an era of influencers, micro-influencers and wanna-be influencers, brands have the chance to support genuine heroes who have gone the extra mile at their own expense to raise awareness about people with disabilities, poor children who can't afford an education and inspire an upcoming generation of desert girls that they can stand shoulder to shoulder equal with the opposite gender at the top of the world!
---
By Rami Hmadeh, CEO and partner, Serviceplan Group Middle East
Enjoy this? Get more.
Our monthly newsletter, The Edit, curates the very best of our latest content including articles, podcasts, video.
Not a member yet?
Now it's time for you and your team to get involved. Get access to world-class events, exclusive publications, professional development, partner discounts and the chance to grow your network.