Interview with Iain Valentine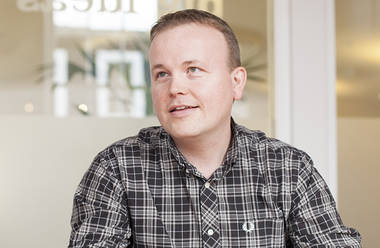 Sub Header:
Managing Partner, Whitespace
Whitespace was founded in 1997 with a focus on digital and brand design. A commitment to building long-term client relationships has resulted in consistent organic growth. Now, 20 years later, the team of 70 Whitespacers is based at Norloch House, at the foot of Edinburgh Castle, with a diverse portfolio of clients across the private, public and third sectors. Core specialisms of digital and brand are supplemented with expertise in mobile, integrated campaigns and content marketing, reflecting the changing nature of marketing over the last two decades. Three time winner of Scottish Design Agency of the year and recently named top independent agency in Scotland, we have won over 160 awards over the years.
We caught up with Managing Partner, Iain Valentine to find out more.
You've been with Whitespace since 2004. What has been your proudest moment as a Whitespacer?
Too many, I am constantly in awe of the talent we have and the work we are delivering around the studio. Key highlights are our four new associates joining the board, finally launching our 'Oven' paid internship scheme. But I guess winning Scottish Design agency of the year 3 times, 2010, 2013 and 2016.
What brands are you most impressed by at the moment?
I like what Monzo Bank are doing, I feel they're smashing it in FS at the moment with almost a cult following of customers who love the openness and transparency of a challenger bank.
You've worked with some fabulous clients! What have been your favourite projects to work on and why?
I couldn't possibly single out any fave client projects… behave.
You have a very comprehensive in-house team. Whats the vibe like in the office?
In a word 'buzzy' we have a tremendous in-house capacity and what we can achieve when we get the team mix right and have the brief and freedom to really utilise what we can do. It's awesome.
What's on the horizon for Whitespace?
More Augmented Reality projects, more engaging campaigns and content, and more co-creation of actual products/services with our clients. I also think we will see even more collaboration with other specialists and organisations, hopefully nationally and internationally. Our vision is to be a leading international creative agency.
Bestow your finest piece of wisdom, in a nutshell.
Work hard and be nice to people…
---