To celebrate the launch of My Monopoly - the new customisable Monopoly game that allows players to personalise elements of the game such as properties and tokens – Hasbro Games created a surprising experiential marketing activation that the participants will not be forgetting any time soon.
It all started on a giant screen in a shopping mall – shoppers could digitally play Monopoly from their phones and see their moves reflected on a digital display at Westfield Stratford's Four Dials area. 
They used their smartphones to select their favourite mover (we all have one!) and upload a photo, before having a go at a larger-than-life version of the game.
They were placed on a physical 'GO' square facing the digital display and saw their uploaded photo slot into their chosen My Monopoly mover on the screen. Users shook their phone to simulate a digital version of shaking the dice, and the personalised movers projected their progress around the board.
This digitally interactive activation was pretty impressive in itself – but, to both the surprise and delight of the players and passers-by, Hasbro Games took things one step further by bringing the game to life with costumed characters, such as no-nonsense policemen who swiftly escorted players to a specially constructed jail, the banker, and a giant pigeon.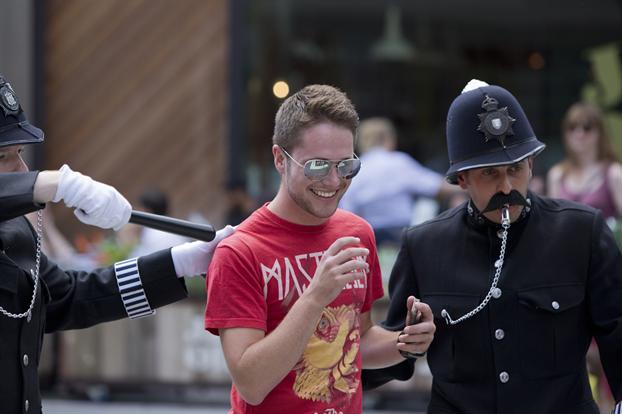 Other quirky live elements included the appearance of an opera-singing angel when the player landed on Angel Islington and a mass water fight when they landed on Waterworks. And the lucky players who turned over an 'It's your birthday!' chance card were even presented with huge gifts and celebrations.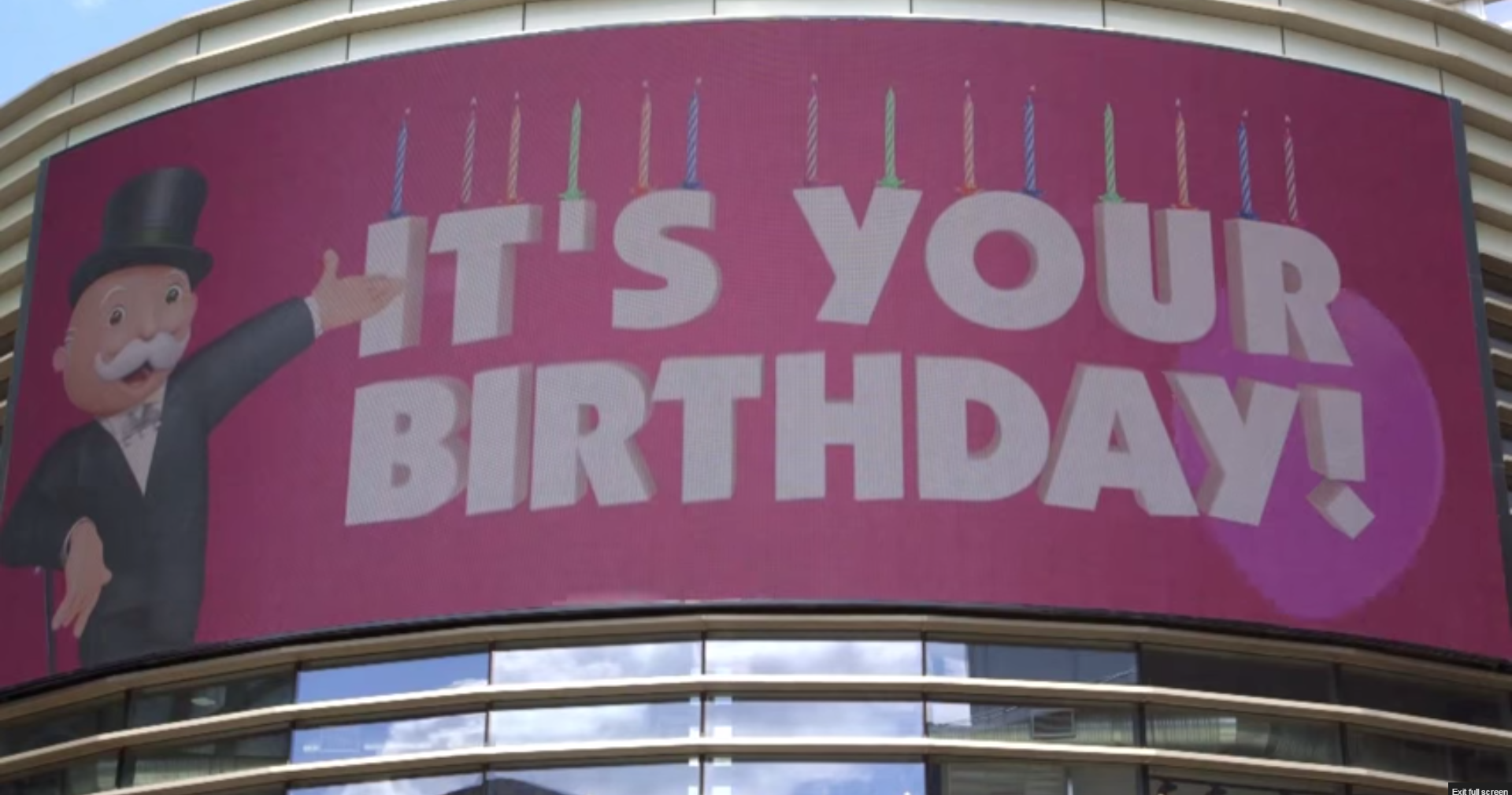 In a great move to make the activation inclusive, online fans were also able to interact by uploading a Monopoly-inspired photo on Instagram using the hashtag #MyMonopoly, giving them the chance to appear on the giant screen in between gameplay. Whilst integrating social media was a brilliant idea, I think it would have been wise to have incorporated Twitter and Facebook as well as - even instead of - Instagram; Facebook and Twitter seem like much more relevant platforms for a board game's community of fans to gather and the campaign could have seen far more traction on those.
At the very heart of experiential marketing lies the aim of surprising and delighting consumers – this is because creating an unexpected, off-beat brand experience is a sure-fire way of generating positive brand connections that are memorable and talked about. With its larger-than-life interpretation of the game that came jam-packed with surprises, Hasbro Games certainly achieved this goal.
Take a look at our 6 ways to engage consumers through brand experience report for more ideas on how to create memorable and sharable experiences that build relationships with consumers.
---
Joss Davidge is managing partner of BEcause, an award winning brand experience agency which has been helping brands become more tried, tested and talked about for over 20 years.
Read more from Joss in our Clubhouse.