We caught up with Justin, founder of the brand strategy and communications agency The Cernis Collective, to get his thoughts on supporting the great work of Stand Against Violence.
What inspired you to participate in Marketing for Good? 
I made a point of giving back a long time ago and over the years have helped numerous charities. I feel compelled to help people. Plus there's always room to do a little bit more and seeing the marketing industry call out to its community felt like a good opportunity to take on something new. It's a great initiative and right that people with skills should use that talent to help others. I'm convinced the cumulative effect of all the help being given by other agencies and professionals will be enormous. It doesn't matter about the monetary value of the effort just the final output itself and the value it will add to each cause.
Why did you choose to work with Stand Against Violence? 
I was struck that out of a great personal tragedy here was an individual (Adam Fouracre, Founder) trying to turn that awful experience into a positive and help others. Plus the fact that a little bit of help could probably go a long way for this organisation. Adam's brother Lloyd was senselessly killed in a random and unprovoked act of violence in 2005 and with will power, goodwill and huge amounts of effort they had really got something going. I felt we could help add to the momentum in some small way. They say there's a reason for everything and as hard as that may seem what Stand Against Violence is achieving has probably helped save others from a similar fate. Vulnerability is a horrible state in any walk of life but particularly for young people. Stand Against Violence helps give young people confidence, awareness and the opportunity and skills to help keep themselves safe. It also gives people the reasons not to choose violence. 
What challenges were they facing?
There were immediate brand challenges but also business and strategic ones too, which are more long term. The fundamental challenge is a classic vicious circle. They can't do more, because they don't have the resources. Because they don't have the funding they can't get the resources.  And critically, awareness of the organisation plays a key role in breaking that circle. I also think having now worked with Adam for a short while that he needs some form of support – in effect a sounding board to help him with decision making and setting priorities when it comes to awareness and communication. Plus access to our own resources and rolodex where appropriate.
How were you able to help them address those challenges? 
We initially set out to do a number of key things built on 'change'. Firstly change the look of the organisation – branding, identity and articulation of offer, which we have done with some new work. Secondly change its routes to finance – adding corporate to existing personal and grants. Corporate is a long-term objective but we have to start somewhere and begin the dialogue, which we are doing with identifying the right company fit and then helping prepare presentations. We have also introduced the charity to partners of ours who are helping them in other ways. For instance an introduction to media agency Cream who are helping them get the most out of an Adword grant. Secondly an introduction to a highly experienced Lifestyle Coach, Garth Delikan who has helped them with training for conflict resolution that they will be able to incorporate into their own workshops and training programs.  There are also some longer term strategic challenges we'd like to get to grips with – more about how the charity forges useful relationships with the gaming and drinks industries.
How have you benefited from the experience? 
Carrianne Walker and Pete Mitchell were the students who created the concept of the identity and we helped them develop and craft it along the way. Knowing how hard Adam works and how passionate he is about his organisation I feel privileged to help him. We can only give so much time so I hope what we do adds value. If we can play a part in some of their future success then we've done some good and that's what it's all about for us. Whether it's a charity or any other client we like to know we're making a real contribution, as that's what we set out to do.
What would you say to other marketers considering getting involved?
Jump in. My view is the marketing and creative industries are an incredibly generous bunch. With their time, talent and money. I take my hat off to the people who are doing wonderful things out there and their capacity to give back as individuals and organisations. So if you're not already doing your bit, now is the time to get involved. It's infectious. Once you see the good your talent and energy can do to help others you might not be able to stop. I reckon you'll be a better person for it too.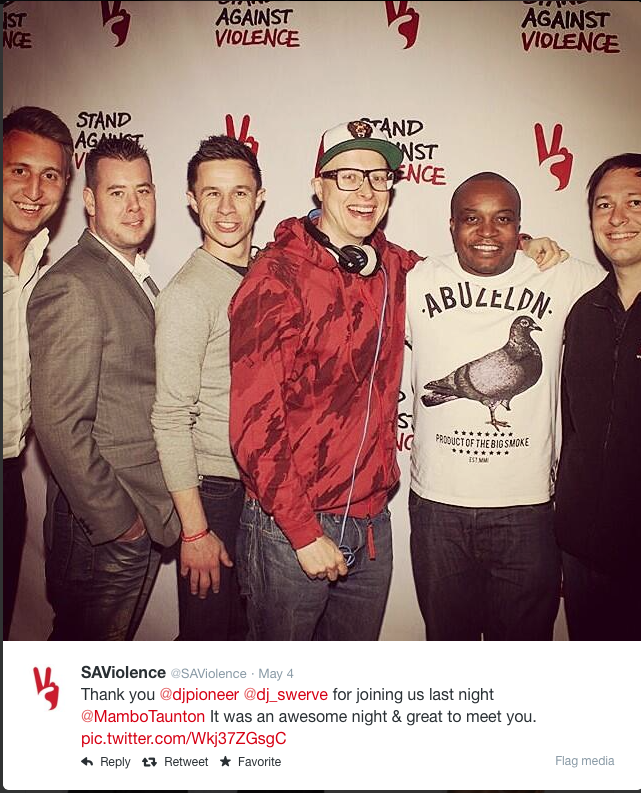 Justin's work has certainly been appreciated. Adam Fouracre, founder of Stand Against Violence said, 'Working with Justin has been a fantastic experience. Having someone with real knowledge on hand for advice and help is invaluable to us. Justin and the team from Leeds University have done a wonderful job of rebranding our image and I am looking forward to implementing this in a new website and future resources. I and all of the trustees for SAV are truly grateful for Justin's support and we are thankful that he chose to support our cause.'
 
If you would like to find out more and see how you get involved, please get in touch with
Sarah Woodley
. And you can browse more
marketing for good
content in our Clubhouse.