Zehra's key focus is on driving consumer insights and brand building to achieve business growth, and Zehra is currently co-running the Insight Live webinar series which over 18,000 marketers across EMEA have attended. Zehra has been a guest marketing lecturer at the University of Oxford focusing on brand building in the digital age. Zehra is also the Chair of the DEI Council at Meta and has recently launched the "diversity unlocks discovery" podcast with the IAB focusing on how we can minimise bias in our communications.
Previously, Zehra was Head of Strategy at Manning Gottlieb OMD, working across a range of brands including Estee Lauder Companies, Starbucks, Virgin, Sony Pics and Government comms. 
Zehra has won numerous industry awards for her strategic work including IPA Effectiveness, Cannes, MediaWeek and Campaign awards, and was recently named as one of the top 30 Ecommerce influencers of 2021.
---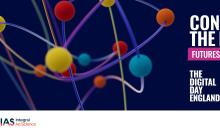 A day designed to inform, inspire and to overcome challenges that we all face in the digital marketing world.