We know from experience that brands don't like to rock the boat. Mistakenly thinking that it's best to stay in the middle lane. Try to appeal to everyone…and no-one. Stand for everything…and nothing at all.
But following the George Floyd killing and the public groundswell — with #blacklivesmatter protests across every state in America and across the world — companies have been forced to respond. In fact, silence has been viewed as compliance. The truth is that many brands ARE compliant. They always have been. Intentionally or not. Whether it's failing to sell foundations in darker shades, or failing to show any diversity in their shoots, or just failing to say the right thing.
In the US Knicks owner Jerry Dolan has been slammed for an internal email explaining that his organisation won't be speaking up on matters of police brutality and systemic racial injustice because "we are not any more qualified than anyone else to offer our opinion on social matters." This, fresh on the heels of the smash hit Netflix show, The Last Dance, which underlined that the man who took the sport to new heights was black. In fact, as with many sports enjoyed by everybody, the most successful, best known stars across the years in basketball are all black: Michael Jordan, Magic Johnson and Kobe Bryant. Jerry Dolan might want to reflect on that next time he decides basketball knows nothing about the value of black lives.
As a wall of silence began to be breached by more and more mainsteam brands the resulting statements, while presumably well-meaning, all began to look the same. This tweet from Jian DeLion called this out with a 'helpful' guide for creating the perfectly bland brand response.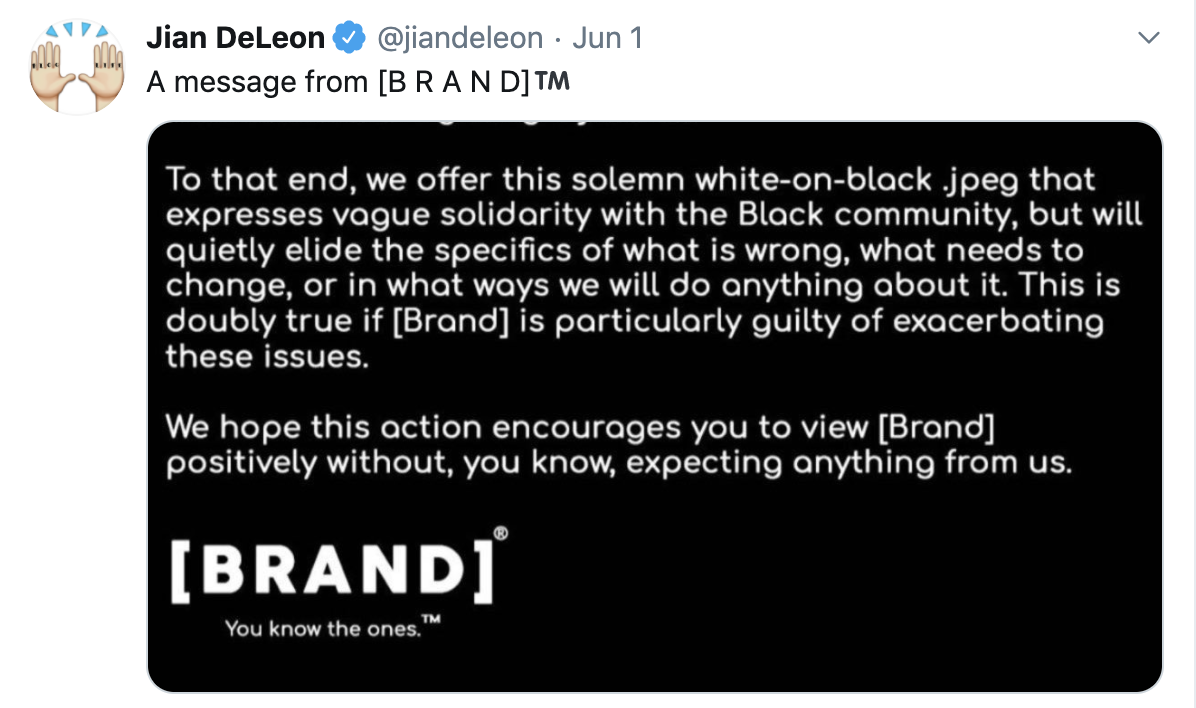 Ben & Jerry's tore that rule book up a long time ago, in fact, they never subscribed to it and their response following the death of George Floyd was a lesson exemplar.
"We Must Dismantle White Supremacy," the ice-cream brand opened with. They then set out a comprehensive statement that any activist group would be proud of. "All of us at Ben & Jerry's are outraged by the murder of another black person by Minneapolis police officers," it continued "We have to speak out… We have to say his name: George Floyd." They didn't let up there, calling out an "inhumane police brutality that is perpetuated by a culture of white supremacy." They then demonstrated an educated understanding of the systemic racism in America and its many victims.
Better yet, it was more than just a statement and a lesson. It was a plan. (Rare in these days of Covid). They actually issued a set of demands: First, for President Trump among others to disavow white supremacist supporters. Second, for Congress to create a commission to determine remedies for the centuries-long effects of slavery and discrimination. Third, for a national task force to devise legislation "aimed at ending racial violence and increasing police accountability." And fourth, for the Department of Justice to "reinvigorate" its Civil Rights Division, and reverse regressive policies from the Trump era. The statement concludes by calling on "white America" to "collectively acknowledge its privilege" and commit to concrete change.
A slam dunk that Jerry Dolan would have been proud of. Or rather, not proud of, given his lame ass response.

At this point you look at Ben & Jerry's, an ice cream brand. And you look at Donald Trump, the leader of America. And you wonder who represents America and who's represented by silly cows jumping around in a make-believe world.
Yet, despite his cartoon-like appearance, we all know that Trump is dangerously divisive. Even fellow Republicans joined the chorus that called him out for inciting racism (again) following his response to the protests, including a tweet that essentially threatened more black lives 'When the looting starts, the shooting starts.'
How can it be that Ben & Jerry's has a far more Presidential address to the nation that the actual President himself? How can it be that an ice cream brand is more eloquent around the matter of racial justice than the leader of the 'free world'? Ben & Jerry's have coolly and calmly outlined a plan to dismantle racism whilst Trump has had a childlike melt down.
Admittedly, Ben & Jerry's are owned by a multinational conglomerate (Unilever). They have a whole lot of smart people behind them who know how to put a campaign together but it is still incredibly rare for a mainstream brand to publicly call the President out, by name.
Unsurprisingly it made news. On social media, it won plenty of praise. The document "just put all other corporate statements to shame," podcaster and journalist Jemele Hill tweeted. "I don't think I know of a single brand that sticks to their mission statement and core values" so consistently, writer Naima Cochrane tweeted. "Which just proves: Speaking out and taking a firm stand does not, in fact, hurt your bottom line." What's really telling is that Ben & Jerry's have been outspoken on issues for years (it endorsed black rights years ago and has also backed gay rights vocally). The point is that this latest statement wasn't about quickly jumping on a bandwagon to sell ice-cream, it was completely on-brand. Ben & Jerry's have earnt the right to have an opinion.
Contrary to some people's beliefs, having an opinion pays off. Ben & Jerry's had sales of $680 million last year. The company's ideological spirit came from its namesake founders (the brand started in the late 1970s) who were famously progressive Vermonters. Remarkably, even though they sold up to Unilever in 2000, the ideological spirit of the brand remained.
There's a traditional school of thought that it's best for brands to avoid any controversial subject but the Ben & Jerry's statement teaches a new lesson. A lesson in getting comfortable with uncomfortable issues and in doing so helping others form a positive understanding and point of view on societal issues.
But. It's not a tick box exercise. Beliefs need to be genuine, articulated clearly and, most importantly, followed up with action. The Ben & Jerry's statement has value because it builds on the company's existing, demonstrable track record of speaking up on civil rights and race issues. Once again: it endorsed Black Lives Matter years ago. They were one of the (sadly) few brands who ever gave this proper thought before May 26th.
Suddenly a tub of Ben & Jerry's looks more appealing than ever.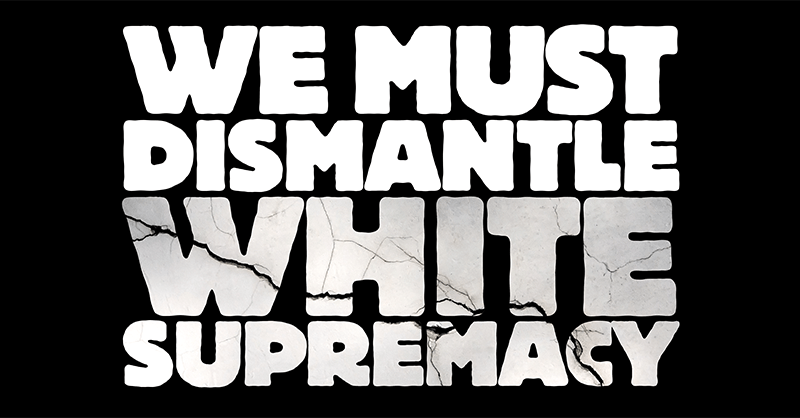 This piece first appeared on La Norme Beauty's site here.
Enjoy this? Get more.
Our monthly newsletter, The Edit, curates the very best of our latest content including articles, podcasts, video.
Not a member yet?
Now it's time for you and your team to get involved. Get access to world-class events, exclusive publications, professional development, partner discounts and the chance to grow your network.