'The ice age is coming, the sun's zooming in.
Meltdown expected, the wheat is growin' thin.
Engines stop running, but I have no fear,
'Cause London is drowning, and I, I live by the river.'
The Clash, 'London Calling'
I recently visited a display at The Museum of London commemorating the 40th anniversary of The Clash's third album, 'London Calling' (until 19 April 2020).

The Clash - Credit: Pennie Smith
This 1979 release marked a critical moment in British popular music. It led a breakout from the narrow confines of punk and mapped new, more expansive creative territories. It was swaggering and confident, rebellious and romantic. Where previously The Clash had been the standard bearers for punk minimalism, 'London Calling' experimented with ska and reggae; with rockabilly and rock'n'roll; with piano, sax and brass. Where previously the band had been deeply sceptical about America's cultural worth, they now embraced its status as the wellspring of rock'n'roll. 
'We wanted 'London Calling' to reclaim the raw, natural culture. We looked back to earlier rock music with great pleasure, but many of the issues people were facing were new and frightening. Our message was more urgent — that things were going to pieces.'
Joe Strummer
True to The Clash's own roots, 'London Calling' considered contemporary themes: police oppression, racism and unemployment; lost idealism, consumer ennui and nuclear fallout. (It was written in the wake of the Three Mile Island accident.) But it also looked further afield, reflecting on the Spanish Civil War, Montgomery Clift and the enduring appeal of a brand new Cadillac. It was a thrillingly eclectic cocktail of top tunes and radical ideas.
'I'm all lost in the supermarket.
I can no longer shop happily.
I came in here for that special offer,
A guaranteed personality.'
'Lost in the Supermarket'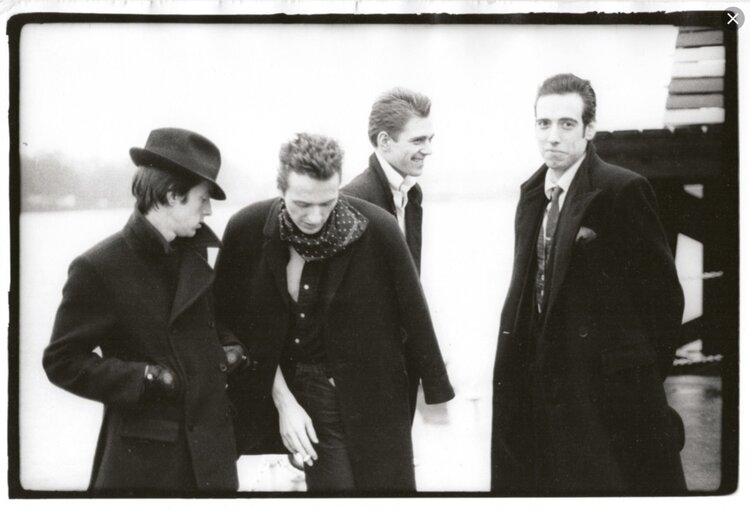 The Clash - Credit: Pennie Smith
The display at the Museum of London, along with the accompanying scrapbook, afford us the opportunity to consider the very particular circumstances that led to this vital, exhilarating album. 
Here are some of its lessons.
1. 'If you're in a rut, you gotta get out of it'
'If you hold them to their past, you're strapping on a straightjacket.'
Kris Needs, ZigZag Magazine
By the time The Clash came to planning their third album, they'd reached a fork in the road. The Sex Pistols had split up and Sid Vicious was dead. The punk genre they had collectively pioneered, for all its blistering brilliance, was running on empty. It had become all three chord Spartanism, snarling nihilism, safety pins, spitting and mohicans.
As a journalist observed at the time:
'The first album detailed their concerns (repression, class war, boredom, etc.) while the second showed up the dilemmas of their position rather than actually going some way to resolving them.'
The Clash recognised that they had to evolve and move on.
2. Build a tight team
The band had recently parted company with their manager Bernie Rhodes and found themselves without a studio. They relocated to Vanilla Studios in Pimlico and set about rehearsing. In contrast to previous albums, they kept these sessions private.
'We felt quite alone in some ways. We found the place in Pimlico and became even tighter, to the point where you didn't need to talk when you were playing because there was a natural communication there.'
Paul Simonon
The main songwriters, Mick Jones and Joe Strummer, had not penned a new song in over a year. And so the group began the process by performing covers from a broad variety of genres.
3. Establish a routine
 'There was a real intensity of effort and our recreation was playing 5-a-side football as a way of starting our rehearsal days. We'd play until we dropped and then we'd start playing music. It was a good limbering up exercise.'
Joe Strummer
The band developed a disciplined daily routine: a midday game of football in the playground opposite the studio, egg and chips in the nearby café, followed by extensive rehearsals. As ever, habit is the creative's friend.
'I just think we really found ourselves at that time and it was a lot to do with the football.'
Mick Jones
4. Do things in the right order
Once they had built confidence and coherence through rehearsing cover versions, the band took to writing new songs, and then rehearsing these. They then transferred to Wessex Studios in Highbury to begin recording. They referred to their disciplined regime as the Three Rs: 'Rehearse, 'Rite and Record.'
This may seem an obvious point. So often in any creative endeavour we charge ahead and try to do everything at once. The Clash demonstrated that it's critical to give each developmental phase time and space, and to approach them in the right sequence.
'That's probably why it's our best, because it was written, rehearsed and then recorded, rather than just going into the studio and see what turned up.'
Topper Headon
5. Add a dose of adrenaline
The Clash had appointed veteran producer Guy Stevens to oversee the album. Stevens was a fast-working maverick who had recorded with Mott the Hoople back in the day. He created a sense of urgency in the studio by smashing chairs, whirling ladders and shouting in the musicians' faces.
He also liked to play a recording of the 1979 FA Cup Final - when Arsenal beat Manchester United 3-2 - at full volume over the studio speakers, while holding a scarf bearing the words 'There's only one Liam Brady'.
6.  When you've found a groove, stay in it
One of the remarkable things about 'London Calling' at the time was that it was a 19-track double album. This seemed at odds with the punk movement for whom such things had the whiff of prog rock excess and self-indulgence. In order to address possible accusations of commercial exploitation, The Clash insisted that 'London Calling' be sold as a two-for-one offer.
The truth was that the band had hit such a rich vein of form that they had too much material for a single album. The final song, 'Train in Vain,' arrived so late that it was originally excluded from the back cover's track listing. 
The lesson is: when you've found a groove, stay in it.
'London Calling' was released on 14 December 1979. Pennie Smith's iconic cover photo featured Paul Simonon smashing his bass on stage at New York's Palladium theatre earlier that year. (She had originally been reluctant to use this image as it was out of focus.) Ray Lowry's art direction echoed that of Elvis Presley's first album.
From the moment we heard the first urgent chords of 'London Calling'; from the moment we acquainted ourselves with the assertive strut of 'Working for the Clampdown'; from the moment the bass on 'The Guns of Brixton' came rumbling in … we knew this was it, the real deal – it can't fail.
'I know that my life make you nervous.
But I tell you I can't live in service.
Like the doctor who was born for a purpose.
Rudie can't fail,'
'Rudie Can't Fail'
Rudi Can't Fail - Joe Strummer and Mick Jones, The Clash 1979
This piece first appeared on Jim Carroll's blog here.
Enjoy this? Get more.
Our monthly newsletter, The Edit, curates the very best of our latest content including articles, podcasts, video.
Not a member yet?
Now it's time for you and your team to get involved. Get access to world-class events, exclusive publications, professional development, partner discounts and the chance to grow your network.