Infinite Gamification: Motivate your team until the end of time
A review of Toby Beresford's book, by Simon Stokes at The Value Engineers
Gamification is a well-developed, highly refined set of nudge-behaviour principles and a buzzword that has been in wider parlance for a number of years (earning it a shortlisting in the OED's 2011 Word of the Year).  It subtly impacts many areas of our lives, often without us even realizing it (when done skillfully) – from easing us into Netflix binges, to fitness apps, via gambling and even our work lives. And it has always remained a mystery, a slightly dark art of how some systems manage to incorporate it and other just miss… (How is your financial work bonus standing up to challenges of 2020, by the way?)
 
What Toby Beresford does in this compact handbook - Infinite Gamification - is carefully crafted advice on how gamification can be designed, developed and, perhaps most importantly, sustained in a business leadership context.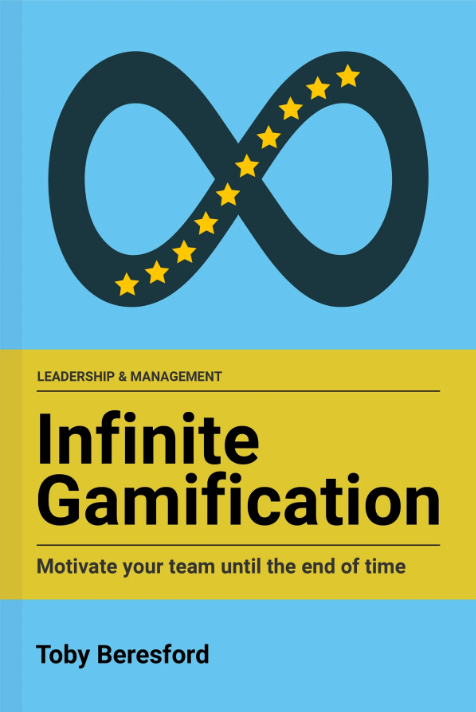 Having worked at EA, engaging their videogaming audiences in marketing content around best-selling games like FIFA and The Sims, I find that 'gamification' is often misunderstood. It is not turning the process into a game, but far more about 'leveling-up' – moving onwards and upwards, by achieving quick goals, for longer-term success.  If you're invested in something you're passionate about, that feeling of hooking you in to striving to achieve more… that is the heart of gamification.
By concisely detailing his approaches to Analysis, Design and Evolution, Beresford gives us a game plan for mapping a team's challenges.
"Leading with Metrics" is all well-and-good (it was a core objective at EA's Digital Division) but you have to know which metrics pay-off. The author outlines Score Context, Players' needs and introduces Personas to guide the right analytics.
When considering the Design phase, I really liked the "Vanity vs Clarity" balancing considerations, the context of the metrics and how (and when) to compare.  Setting meaningful scores is at the heart, and Beresford talks to 'getting beyond numbers' – traffic-lights, emotion scales, infographics and team rewards all have their part to play.  
But this is not just Gamification; this is Infinite Gamification.    
 
As well as explaining techniques for designing and evolving your approach, using lists and diagrams, Toby Beresford also outlines some interesting pitfalls (e.g. Score Fatigue or Over-Complexity). You might think the player-naming and badges take it too far, but you would be contradicting the empirical evidence of multi-billion $ games and all professional sports.
Infinite Gamification examines how programmes can be designed to be open-ended, to evolve and adapt over time and gives some good understandable, tangible and applicable examples.
"All the world's a stage, and all the men and women merely players", said William Shakespeare (and probably EA Sports and Call of Duty too; you can bet TikTok does.).  And I like that, in Infinite Gamification, our teams are referred to as players. We play – we play roles; we play to our strengths; we play our part; we talk of teamwork.  We are professional, but let's also make it challenging and, if we can, enjoyable.
At The Value Engineers we work with brands on identifying and tackling their "Must-Win Battles" (others might call these as 'BHAGS' – Big, Hairy, Audacious Goals). The author refers to these as 'Prime Directives' – what the gamification programme is aiming to achieve; and identifying those goals is just the first step to tackling them. From there, we work on giving the teams 'purpose', which is what Infinite Gamification is great at.
I did feel that there are some drawbacks in the techniques – some of the sections raise questions that don't necessarily have right answers.
There is a difficult balance between involving stakeholders and the greying effect of design by committee. And a bad scoring system can wreak havoc – I like that the back cover is bold enough to implore "Don't create a target, goal or KPI without it!"  However, there is little analysis of the 'leveling-up' effect and of identifying bottlenecks, for instance.
But perhaps this leaves open the possibility of a sequel, the next stage… I know I would certainly read it.
---
Infinite Gamification – Motivate your team until the end of time by Toby Beresford is published on 28th May 2020.  Go here for more information
 
Simon Stokes is a Director at The Value Engineers, working with technology and content clients including Sony PlayStation and King Games. Simon was EA's European Director of Web and Social Communities, on titles including FIFA, Need for Speed, Battlefield and The Sims, building global communities, using gamification audience-engagement techniques.
Enjoy this? Get more.
Our monthly newsletter, The Edit, curates the very best of our latest content including articles, podcasts, video.
Not a member yet?
Now it's time for you and your team to get involved. Get access to world-class events, exclusive publications, professional development, partner discounts and the chance to grow your network.