Celebrity endorsement is no hidden treasure in the marketers' toolbox; it has been practiced since the 18th century. As early as 1760, Josiah Wedgwood, the founder of
Wedgwood
used royal endorsement to create a heightened value for his products.  With the sheer amount of celebrities in existence, it is a surprise if today is not referred to as the Celebrity Age. Always on the hunt for local gems, Creative Culture had a look at a few endorsements outside of the UK… that may come as a surprise. 

Innovation: Gender reversals 
It is typical for brands appealing to a specific segment to seek out an ambassador who meets the criteria. However brands are pushing these boundaries and exploring more innovative solutions: it's about who the target audience engages with. In 2013 Gillette employed 3 spokeswomen to promote their Fusion ProGlide Styler, a first for the brand, who had always used masculine representatives. Genesis Rodriguez, Hannah Simone and Kate Upton, well known TV stars and models, explain how they like their men to be groomed. The ad works on the presumption that many American men would want to appeal to women's care preferences. 
 
In India, jewellers have been known to use male ambassadors to embody their brands because of the cultural hierarchy that still exists: traditionally, men make most of the decisions in Indian families. Kaylan, a top Indian jeweller, took the principle further by selecting famous male Indian film stars to represent their brand. This video shows Amitabh Bachchan taking a woman shopping for earrings. 
 

'Cyber' brand ambassadors 
Choosing an ambassador is no easy feat for any brand, there is always going to be a high level of risk involved when forging a partnership with a human being! Some Japanese brands have managed to hedge this risk by signing the Japanese holographic sensation
Hatsune Miku
. Despite the fact that the Japanese pop star doesn't physically exist, she has not only performed at sold out concerts in Japan and across the US but has even appeared on the David Letterman show. She has taken her home country by storm, continuously gaining followers. Japanese supermarket FamilyMart released this campaign in 2012-2013 and has since continued to use the singer for promotions, realising the benefits of not only a local star but one that comes with less 'drama'.    
And they aren't the only ones who have cottoned onto the successful remedy. Georgia, a coffee drink owned by Coca-Cola, released a range of print advertisements featuring the pop star last year.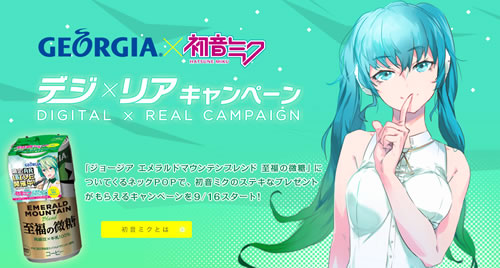 The brand advocate 
Despite extensive and somewhat excessive support and adoration for celebrities, studies have shown that consumers trust word-of-mouth recommendations from family and friends more. In that case, brands are tapping into their followers to promote their products and services. Endorsement is, as a consequence, based on credibility and trust, and who better to trust than your fellow, local consumers? Brands are increasingly engaging with their audiences, taking advantage of social media platforms that have opened up the B2C channels, and therefore the cultural connection between users and followers.

In the USA, McDonald's has turned a local science teacher into a golden arch figure. The school teacher went viral after losing 30 pound in 90 days, on an all McDonald's diet. He has become an advocate of the brand, promoting their new, healthier options; a true testament to their menu improvements. 
 

Who to choose?
As consumers become more and more weighed down by the amount of advertising they process on a daily basis, it is up to marketers to help them wade through this. Localising celebrity endorsements and being more creative with how you engage with local audiences are tools that can separate brands from the masses.

Gathering market insight on who is recognised, liked and admired in a country is vital when picking a brand ambassador. Whether brands choose celebrity ambassadors, fresh faces, rising stars or the everyday consumer, innovation and localisation are key. 
---
Read more from Creative Culture in our Clubhouse.