Online video ads for the campaign featured a Welcia sales associate explaining the benefits of Kirin Supli during "the year-end season when people are busy and get sick easily."
The next step was to put this strategy into action. The brands created a series of online video ads promoting Kirin Supli set within Welcia stores. The YouTube TrueView ads were aimed at consumers aged 25-44, the primary purchasers of Kirin Supli, and ran in the 15 prefectures with the most Welcia stores. From there, the team further localized the campaign by distributing the ads only within a 5km radius around each store. Welcia then stocked up on Kirin Supli in the branches around which the ads were distributed and prominently displayed the product. The campaign tagline, "Kirin Supli: For winter fatigue" helped the energy drink stand out in a season dominated by hot beverages.
Kirin and Welcia evaluated their joint promotional efforts by measuring store visits and store sales. To do this, they separated all Welcia stores into three groups:
stores in areas that didn't receive any campaign marketing efforts.
stores in areas that were served video ads.
stores in areas that were served video ads and displayed in-store promotions.
Impressively, the campaign saw a 149% sales increase of Kirin Supli at Welcia stores over the previous month and a 128% sales increase over the previous year. The campaign demonstrated the power of brands working together to achieve shared goals as well as the impact of relevant, localized creative when paired with in-store efforts.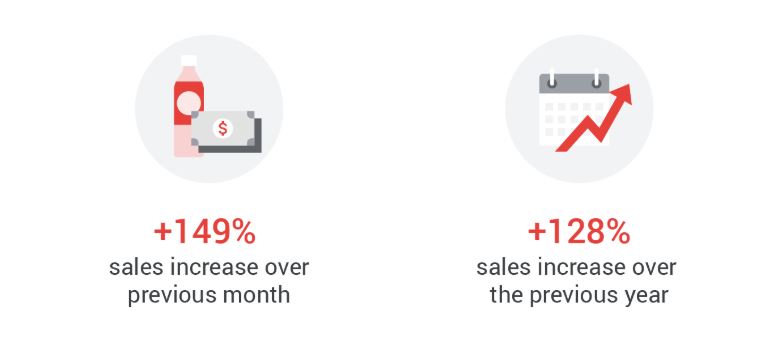 Based on these encouraging results, the brands plan on optimizing the video creative to drive more store visits in the future. "This was a clear win-win-win campaign that benefitted the customer, product brand, and store," said Daisuke Wada, Welcia's merchandising manager. "What's more, we're also seeing repeat customers, enabling us to maintain increased sales even beyond the campaign's end," concluded Kazuki Kogure, media leader at Kirin Beverage.
---
This article is by Takako Yano, Food Beverage and Entertainment, LCS Japan, Industry Manager at Google and first appeared on Think With Google here
---
Sources

1 Ministry of Economy, Trade and Industry, Japan, 2018.
2 Family Income and Expenditure Survey, Ministry of Internal Affairs and Communications, Japan.