The new generation reveals to us an alternative definition of togetherness that comes from difference and contradictions rather than sameness.
Gen Z womxn are driving this showing us the behaviours of a "new normal", where individuality is embraced and showing up for yourself and others, even when they are nothing like you, becomes an act of tolerance and inclusivity. For brands to be relevant there is more work to do on authenticity and true representation of this new powerful generation.
Our recent experience of togetherness has been dramatically different to what has come before. Throughout lockdown our collective need for security, faith, belief and meaning has increased. Old-fashioned values like taking care of our local community, having relationships with our neighbours, stopping for meaningful conversations in the street have all become predominant parts of our day.
Our ability to make the world better is dependent on our commitment to focus on what is happening on our doorsteps. Many brands are creating ads that show empty streets, empty stores and empty stadiums as symbols of our collective strength and achievement. As our world has gotten smaller, togetherness apart has become a binding reality that make us stronger.
Before our world changed so abruptly there were already new behaviours of togetherness infiltrating our society, driven by the values that GenZ hold, which have implications for how brands behave and market themselves. Togetherness is an expression of acceptance and belonging. GenZ are showing us new ways to think and behave and how to represent them and their ideas authentically. They are the new normal, we can learn from them because their behaviour is innate and a reaction to the way previous generations have lived.
In the past togetherness came from shared interest, like-mindedness, locality, style and music preference: we were tribes of sameness; subcultures were more distinct; to be "other" was to be excluded. Globalisation and increased access to travel have collided with the explosion of the social internet, social gaming, online communities and self-starting creativity (especially across music, fashion and design) to transform young people's experience of diversity and redefine what belonging means.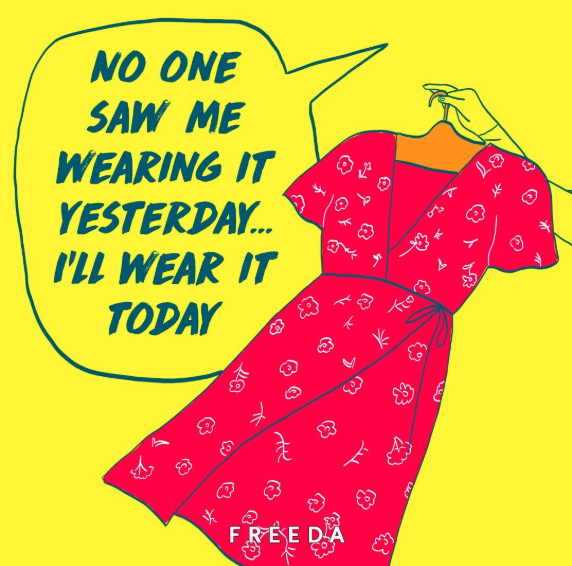 Livity and Freeda Media have joined 'together' on a piece of research to understand better What GenZ Womxn want to see from brands. We've brought the findings from data testing across the Freeda community (470,000) and speaking to a diverse range of young people from Livity's network to demonstrate the clear change in expectations for GenZ vs Millennials.
For many Gen Z womxn, togetherness and belonging can be found in the need to express individuality rather than conformity, as they push against outdated stereotypes and forge new identities for themselves. Identifying as "other" from a mainstream idea is something that increasingly connects young people rather than creating more exclusion. They can be experimental with their style and tastes, they can look and sound different to someone whilst still feeling deeply connected. The simple act of showing up entirely as you are, with the wish to be accepted and understood, has never been more important or more connecting.
'Self expression is something personal to everyone, especially in terms of gender. Everyone has the right to that and nobody should be able to say it's wrong' Freeda community, 17
Increasingly for young womxn, connection comes not only from seeing someone with the same skin colour or same sexuality but from sharing a lived experience beyond these labels. They are able to feel affinity with people who share their daily struggles and values, like the experience of sexuality, sustainability and body positivity even if they (irl) actually live on the other side of the world and identify completely differently in other ways.
"I don't need to actually join some kind of online community to feel part of a group. It's enough to hear from someone with similar experiences to feel a part of something. Like, I feel an affinity to all the other people who want to see fashion become more sustainable and responsible." Livity Network Insight Group

A new type of self expression emerges from this trend
The act of showing up and creating space for yourself, being an ally to others and celebrating difference are becoming the greatest expressions of connection. Living truly and freely, and embracing your own difference creates the space for others to follow and in turn brings a greater sense of acceptance and togetherness that connects young womxn.
"We need to normalise diversity in media coverage and what we see day to day to open our eyes and let us learn from each other about different cultures, traditions, ideas and religions"  Freeda, 18
Within the Freeda platform for example topics as varied as crying, mental health, body hair, gender fluidity, self love, periods, masturbation and strength are embraced as hot topics for personal expression that challenge expectations and therefore create the space for a new type of togetherness based on unique and different experience, not labels. The voices and role models who are most admired by this generation of womxn are those that live authentically, who show different dimensions of themselves and embrace true self expression.

From this you get collaborations between people like Weekday and girlswillbeboys enabling womxn to showcase their differences and think beyond tokenistic gestures of ethnic or gender diversity and aligning to a joined up mindset. We see interesting examples of this from the disruptors in the beauty industry.

For example how FENTY BEAUTY celebrates and embraces multiple definitions of what "beauty" is and who their products are for, whilst still connecting people through their love of make-up and experimentation no matter their age, ethnicity, gender or style. Even though it's fronted by a major star, everything the brand says and stands for reflects this idea that our differences can still deeply connect us in and of themselves.
If this new definition of togetherness is empowering a generation to show up and stand up for themselves and each other, then brands who want to talk to them need to make this part of their narrative.
"Real value comes from bringing people's stories to the forefront. Brands need to be taking lived experience to the mainstream and celebrating whatever that might be so we can all learn from it."  Sahra Isha, 19, Founder of Asra Club - Livity Network Insight Group
---
Key lessons for marketers

Three behaviours brands can adopt to embrace difference in their brand story.
(i) Create safe spaces where difference flourishes
Brands need to get more comfortable with representing difference - not just visually but by telling nuanced stories and bringing lived experiences from the fringes into the mainstream. Yours can be a brand that not only celebrates difference but also creates safe spaces for diverse audiences to connect around a shared mindset or value. Done right, and yours can be the brand that connects people in ways that they can't experience anywhere else.
(ii) Visible activism
Show up for your customers - it is what you do not what you say that matters. For Gen Z womxn their awareness of brand tokenism or incongruent behaviour is heightened. The realities of social media and content becoming available in perpetuity has left brands vulnerable. Expectations of brands are higher than ever, stories must run deeper and with more nuance to resonate. Perfection is not expected, diversity is sought out and action is essential.
(iii) Embrace limitless self-expression - freedom comes from being yourself
Recognising that self-expression is fluid and that it can change daily is important because it stops brands from moving toward extreme stereotypes of how a GenZ womxn looks. The lens you look through is as important as what you reflect, both sides of the camera matter when it comes to diversity. This generation want to be seen fully, they show up in multiple ways and are not afraid to experiment.
How you behave will be remembered, be activists for togetherness through difference.
---
This article was taken from issue 6 of Marketing Society publication EMPOWER. Read the archive here.
Enjoy this? Get more.
Our monthly newsletter, The Edit, curates the very best of our latest content including articles, podcasts, video.
Not a member yet?
Now it's time for you and your team to get involved. Get access to world-class events, exclusive publications, professional development, partner discounts and the chance to grow your network.