It was the last thing I expected to hear: marketers and businesspeople talking about the Renaissance.
I gulped, wondering how much I could remember about Raphael and Michelangelo (beyond their starring roles in Teenage Mutant Ninja Turtles). 

I didn't need to worry. The conference wasn't about the 14th-century intellectual movement. Nor was it about Beyonce's new album (this I was a little sad about, mind). It was about the business renaissance happening right before our eyes in 2023. 

Singapore has come surging back to life post-covid. People are out in force, ready to create change and get moving. That sudden shift in energy is exhilarating – and overwhelming at times. In quieter moments, I ask myself questions like, "How can I make sure I'm leading the renaissance, rather than being swept along?"

Other members of the marketing community shared my concerns. They'd come to LinkedIn's HQ for answers. And the Changemakers: Ignite conference delivered. It covered topics spanning the arts, AI and career planning – bringing everything back to the challenges we're facing as a profession. 
---
Here are the main lessons I took from the day: 
Lesson one: Embrace change 
It's always a joy to hear a successful woman speak about her career, and how she's got to where she is, and Grace's talk was no exception. A fantastic way to kick off the day, Grace Kerrison from LinkedIn spoke to us about embracing change, and taking risk through different parts of her life and career. Singapore is full of people who have taken a risk or welcomed a change, so I know her stories will have resonated with many people in the room. 
Lesson two: Strengthen communities through art
Next up, Helen Duffy of Grace Blue hosted a session with National Art Council's Lynette Pang. Lynette, a wonderful storyteller, spoke about her time on the Singapore Tourism Board, as well as her new role at the National Arts Council. Lynette spoke about how art was at the center of her marketing at STB, and shared a great film from her time there. When she spoke about her current role at NAC, we were able to get a real insight into art in Singapore, and it's importance in community, and creating positive change. If you do nothing else today, watch their latest campaign: A Dance to remember. It's a collaboration between NAC, Decadance Co and Dementia SG, using dance and movement therapy to improve the wellbeing of people with dementia. 
Lesson three: Recognise your supporters
Third on the agenda was Gita De Beer's chat with Sivea Pascale, MD at UOB. If you're familiar with UOB, you'll know that their brand recently underwent some huge changes. A new logo, a sharpened purpose, and a new campaign to showcase the changes. Sivea is the mastermind behind these changes, so it was fantastic to hear her take on leading change in an organisation like UOB. She spoke about how she stayed motivated and focused through the constant changes, and a reminder that the biggest changemakers in your life tend to be at home, rather than in work, sharing that the changemaker that inspired her the most has been her mom.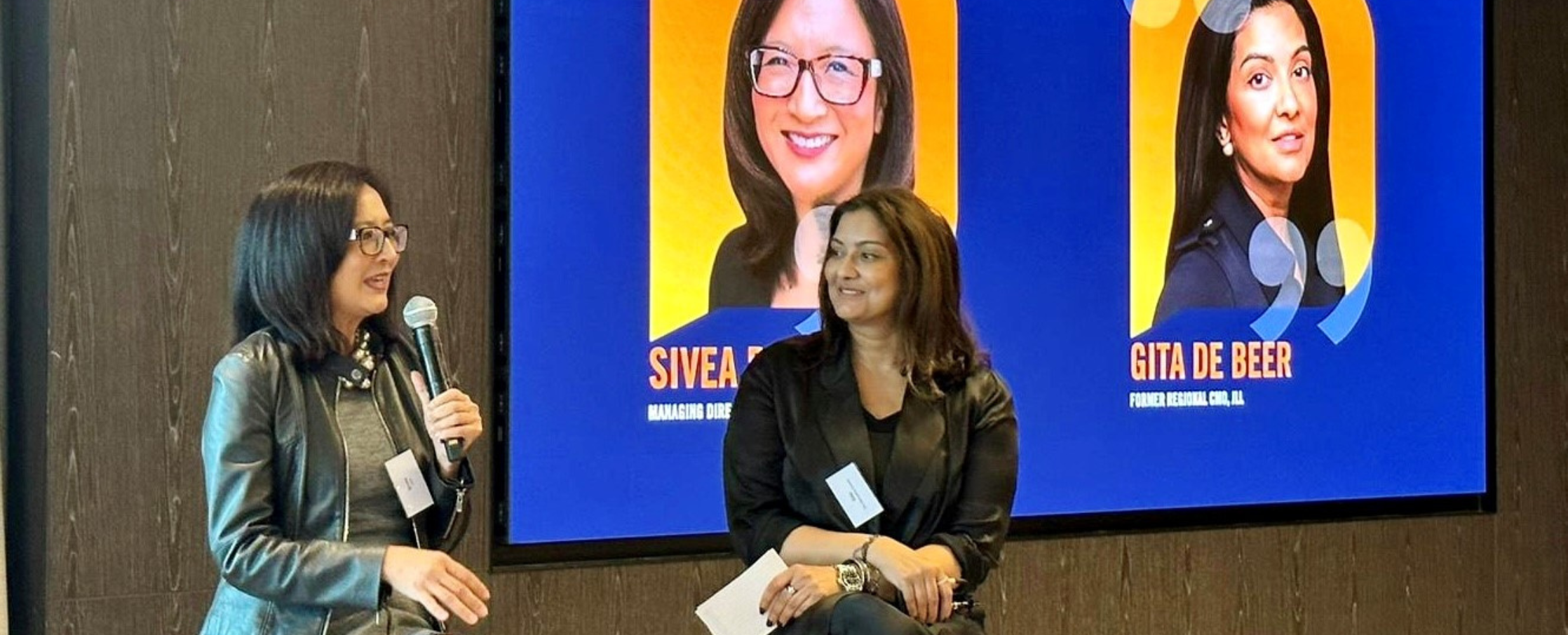 Lesson four: Carve out space for collaboration
Switching from the right side to the left sides of our brains, it was time for Ben Hamley from JLL to take us through a more scientific session. The future of the office has been a hot topic since the start of COVID, so to hear the actual science behind where we work, and how it impacts our mindset was fascinating. The big takeaways? Collaboration is key, and whilst we won't be getting rid of the office anytime soon, there are things that benefit being in a different space for. And it's time to replace those depressing window-free meeting rooms with something more open and flexible. 

Personally, I'd love to have a go on one of those fancy headsets – feels like everything that's missing from my apple watch.  
Lesson five: Approach new tools with curiosity, not fear
As someone who works for an agency that specialises in words and writing, the ChatGPT panel discussion was both the session I was most looking forward to, and the most nervous about.

It was great to hear from both marketers and agencies on the tool, on how people are already taking advantage of the tool in it's early stages. It's being used for inspiration, transcreation and maybe even what you're reading now… Some really interesting points were raised around privacy and security, how the tool might develop, and whether the hype around it is here to stay. 

Disclaimer: I didn't use ChatGPT to write this review, but I did use it for some inspiration for my headline. It's not bad, but I still think my creative team are better.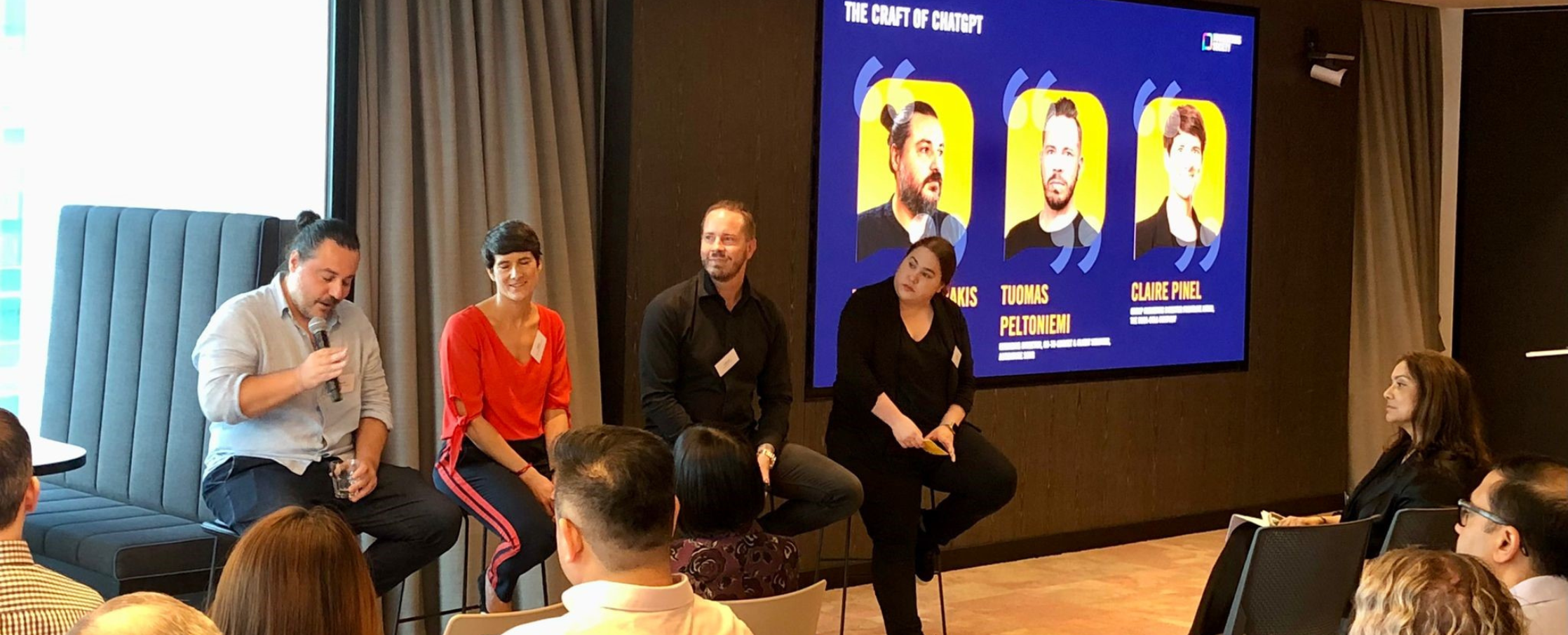 Lesson six: Think way outside the box
And finally, we heard from Ed Pank from WARC on the winners from Cannes 2022. Nothing better to end the day with than campaigns that span some of my favourite things: make up and Mexican food. Ed took us through the highlights from the festival, including a campaign from German retailer Penny, that rivals the annual John Lewis Christmas advert. A great session to bring global marketing trends into the forefront in Singapore, and inspire the marketers and agencies in the room to think outside the box in their work for this year. 
Before the world had its OG Renaissance back in the 14th century, there was a pandemic. And historians say the health crisis caused an outpouring of ideas. Perhaps we're seeing something similar today. 

As people rushed off to take their seats at a red hot chilli peppers gig that evening (inspired by Lynette's talk on the arts, I'm sure), the feeling was one of anticipation and excitement for the year ahead. 

Change is a constant in the world of marketing, so it was apt to hear about it from all different sides – embracing it personally, professionally, with new technology and old ways of working. Judging from the talks at the Changemakers conference, 2023's renaissance is in very good hands.

Big, big thanks to The Marketing Society and LinkedIn for hosting. 
Enjoy this? Get more.
Our monthly newsletter, The Edit, curates the very best of our latest content including articles, podcasts, video.
Not a member yet?
Now it's time for you and your team to get involved. Get access to world-class events, exclusive publications, professional development, partner discounts and the chance to grow your network.